Hannah's life-changing trip to Cambodia
Journalism graduate Hannah Dodsworth spent a life-changing six months in Cambodia where she worked as a media intern helping at-risk women - visit our Open Day this weekend to learn more about opportunities to broaden your own horizons.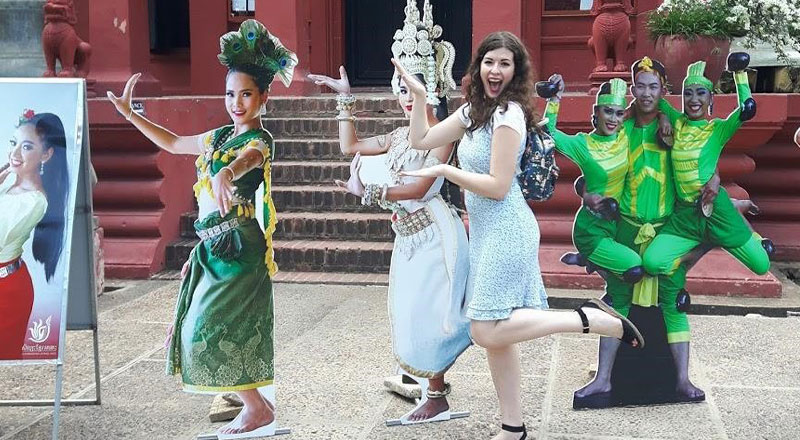 Based in Phnom Penh for six months after graduating from the BA (Hons) Multimedia Journalism in July 2016, Hannah helped to provide safe employment for a women often facing exploitation in vulnerable jobs such as in short term contracts in garment factories.
As well as putting her journalism skills to good use in helping to publicise the work of the charity, Hannah helped the girls and young women she came in contact to make jewellery and taught them English and life skills.
If you are still considering which course to study at university, it's not too late as we have an Open Day on Saturday 25 February, 10.00am to 2.00pm. Book a place.
Hannah, 23, from Middlesbrough, said: 'It was all about building the girls' self-esteem, breaking social and cultural norms and building equality and empowerment.
'It was amazing to be able to open these young women's eyes and help see themselves in a different and more positive light.'
Hannah said the internship was the most challenging and rewarding experience of her life so far.
'I would definitely recommend doing something like this to anyone. I've always lived in Teesside and absolutely love it, but I also wanted to go away for a while and do this for myself. I wanted to push myself and really see what I was made of.
'This meant travelling across to the other side of the globe on my own, living on my own, fending for myself all while living in a completely different culture where literally everything was different.'
I wanted to push myself and really see what I was made of
She added: 'My favourite moment was definitely meeting baby Charlie. When I first arrived his mother Ya was six months pregnant. While I was there I got to meet the most beautiful baby boy I've ever seen and he's honestly the apple of everyone's eye.
'Just seeing Ya as a mum to him, and seeing how soft and gentle she became in such a short space of time was another amazing transition to be a part of,' she said.
Hannah is now using the skills she developed while studying towards her degree and National Council for the Training of Journalists' Diploma at Teesside University by working as an intern for a charity closer to home, Daisy Chain, based in Norton. Daisy Chain was set up to help support individuals and their families affected by autism.
Hannah said the skills she learned while studying at Teesside have proved invaluable in establishing her journalism career.
'I'm really enjoying the role as I love getting involved behind the scenes of a charity and also getting to talk to people who use the services offered by Daisy Chain, including parents, young adults and children all affected by struggles they face on a daily basis. I'm also involved in gathering content for social media, blogs and the new website.'
---
---
---