A UK centre of excellence for the bioscience industry
The National Horizons Centre (NHC) is a £22m state-of-the art, purpose built bioscience facility offering research, education and collaboration for the bioscience industry.
Opened in Spring 2019, the NHC is designed to provide the full range of skills for the biosciences and foster breakthrough ideas through collaborative research and innovation, including the application of digital technologies to improve performance and productivity. Located in Central Park in Darlington it sits at the heart of an ecosystem of life sciences excellence.
---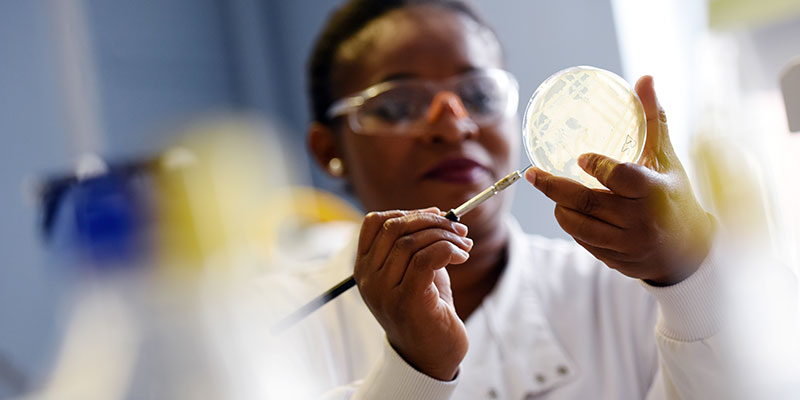 Biosciences form the heart of the UK bioeconomy which supports 5.2m jobs across the UK while generating £220bn*.
* Source report
The current UK market for industrial biotechnology alone is £34bn with the European bioeconomy estimated to have an annual turnover of £1.7tn. Northern England has a firm and growing commitment to biological sciences with over £4bn of inward investment in the last five years. The region hosts two of the country's four large-scale chemical clusters, almost all of the UK's biofuel and bioenergy production capacity, strong food and drink and biologics manufacturing industries, two deep water ports and a diverse agricultural base.
In the Tees Valley, a highly proactive Local Enterprise Partnership and Combined Authority led by a metropolitan mayor has made it an economic priority to invest and attract investment in the sector. Innovation-led development and new tools and technologies are crucial if the UK is to capitalise on this growth potential – and so are the knowledge and skills to deploy them.
*Estimate gross value-added figure, Biotechnology and Biological Sciences Research Council.
What we do
The NHC will provide 3 main areas of focus in supporting the bioeconomy and our industry partners.
Research
Partnerships
Training and Education
---
Our vision
The NHC and its pivotal role in tackling bioscience industry challenges have been made possible with financial support from the Tees Valley Combined Authority and the European Regional Development Fund.
'The National Horizons Centre will be a beacon of all we are good at here in the Tees Valley. Our rich history of innovation, research and development is set to continue thanks to this state-of-the-art facility in Darlington. The new economy will be built on biologics and digital – key sectors we need to support. This massive £17.5m commitment, the single biggest investment we have made so far, is testament to the importance we have placed on securing jobs for the future. Helping Teesside University to achieve academic excellence is a major strand of my wider education and training plans. I look forward to continuing to work with the University and its partners as they deliver the high-quality skills training needed to build a Tees Valley fit for the future.'
Our mission
The NHC exists to:
create a pipeline of graduate talent, relevant to industry needs
design and deliver industry-informed programmes to address the technical, leadership and digital skills needs of the workforce
develop an internationally competitive applied research and development capability that drives innovation
provide industry with access to specialised world-class facilities supporting new ideas and learning.
Our values
As part of Teesside University we seek to enhance the experience of all our students, staff and external partners by:
Delivering excellence in learning, research and enterprise
Empowering individuals and teams to enhance their contribution to the University
Fostering creativity, enterprise and innovation
Embracing diversity and actively opposing prejudice
Communicating openly, honestly and respectfully at all times
Committing to sustainability and the protection of our environment
Taking responsibility and demonstrating leadership.
The NHC and its pivotal role in tackling biosciences sector challenges has been made possible with financial support from the Tees Valley Combined Authority and the European Regional Development Fund.