We offer a range of tailored courses for continuing professional development, informed by the latest research and delivered by academic experts and industry professionals.
We pride ourselves on being flexible and responsive and many of our CPD courses can be tailored to your specific requirements.
This hands-on course explores the developments and opportunities in the field of proteomics. Proteomics requires the identification and quantitation of ever-smaller amounts of proteins in increasingly complex systems. Modern approaches enable this to be accomplished in an automated, sensitive and selective fashion.
Practical proteomics will provide the theoretical underpinning of the methods used in proteomics, with particular emphasis placed on hands on experience in a fully equipped, state-of-the-art laboratory including ESI, ESI MS/MS, UPLC, MALDI, MALDI-MS/MS, ion mobility, 2D-Gel analysis, automated digestion and sophisticated database searching.
Practical sessions will utilise instrumentation in our Waters Centre of Innovation bioanalytical laboratory which includes five UPLC instruments and four mass spectrometers providing UPLC-MS/MS, ion mobility, imaging and sophisticated proteomics software capability.
Short courses
We offer a range of short courses for executives, managers and leaders.
This course is ideal for those who are moving into a management position, taking you through a 'model of change' to move you onto your new and more senior position. Once assessing where you are on the management ladder we look at some key skills to ease you into your new role.
Outcomes:
Review the neurological levels of change
Self-awareness & personal reflection
Effective management of own and team time
Single and double loop thinking
Positive & Effective communication
Effective delegation
Influential communication styles
Personal effectiveness
Well-formed outcomes & goal setting
This course will explore the relationship between individual, team and organisational performance.
The session will cover:
performance hierarchy
determinants of individual performance
evaluating performance management systems
managing individual and organisational performance.
Project management requires a core set of skills and the scale of the project will depend on which skills will have more emphasis than others. This course will equip you with a range of techniques for planning, organising, motivating and controlling resources to achieve the desired outcome. It will ensure that you understand the different between tasks, projects, programmes as well as developing and improving your overall project performance.
Outcomes:
understand the use of project process and techniques for defining a project
practice planning for the right scope of a project
utilise management tools to manage and control project execution
Understanding financial documents, analysing financial performance and managing budgets is a part of any manager's role. However, this can be challenging without an accounting background. This essential short course provides a basic grounding in key financial documents and processes to help non-finance managers to meet this requirement in their leadership roles more effectively.
Outcomes:
finance as a business function
profit and loss (principles, accrual, adjustments, prepayments, depreciation)
financial documents / balance sheets (cash vs profit, terminology)
costs and budgets (fixed, variable, process, monitoring)
software simulation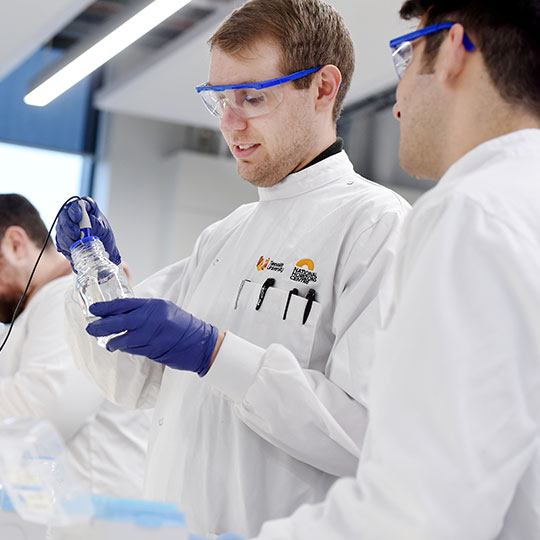 Host your own course at the NHC
Situated in the heart of bioscience excellence at Darlington's Central Park, the NHC is close to national road and rail links. Perfect for hosting your own courses, the purpose-built laboratories and high specification seminar room are sure to make the right impression, while our friendly and experienced team is on-hand to make sure your event runs smoothly and successfully.
Contact us for more information info@nationalhorizonscentre.org.uk