Trio of inspirational figures will join thousands of graduates celebrating academic achievement at Teesside University
An eminent industry leader, a rugby star turned businessman, and a global finance expert will be honoured alongside thousands of graduates during Teesside University's upcoming graduation ceremonies this month.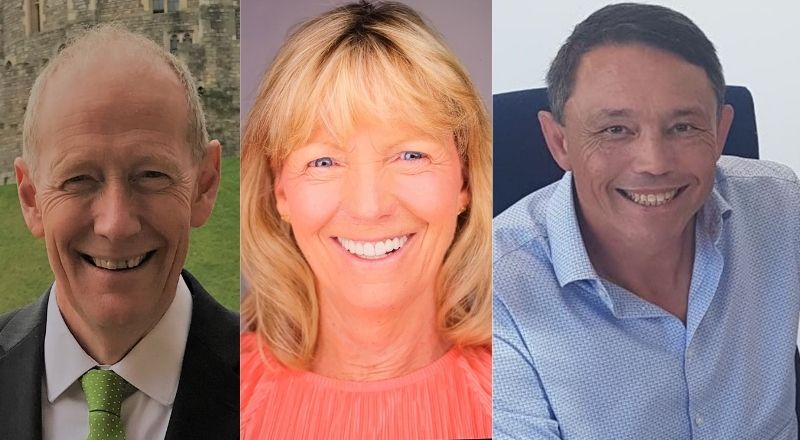 Honorary doctorates will be bestowed on Steve Bagshaw CBE, Rory Underwood MBE DL and Tracy Isacke. They will join over 4,000 Teesside University graduates celebrating academic achievement during 16 ceremonies taking place on campus over the next two weeks.
Around 1,500 graduates who completed their courses in 2021 will cross the stage on 12 and 13 July. Five ceremonies will be held on campus for graduates from the School of Health & Life Sciences and Teesside University International Business School who were unable to have an official ceremony last year due to the pandemic.
The following week, 3,000 Teesside University graduates are set to celebrate academic achievement when a further 11 ceremonies will be held from 18 to 21 July.
Awards will range from foundation degrees and undergraduate degrees, to master's and doctorates. These ceremonies provide an opportunity for graduates to share their success with friends, family and fellow members of the class of 2022.
They will receive their awards from Teesside University Vice-Chancellor and Chief Executive Professor Paul Croney OBE.
Professor Croney OBE said: "Graduation is our opportunity to celebrate the significant academic successes of our student community.
"I am delighted that we are able to welcome back graduates from 2021 to celebrate their achievements as part of this series of ceremonies.
"Graduation is always the highlight of the academic year and I am proud of each and every one of our graduates, who have demonstrated incredible commitment, determination and dedication.
"I am also pleased that the University is awarding honorary doctorates to three exceptional people who have achieved great success during their own careers. I hope that their example provides inspiration to our graduates as they set out to pursue their goals and achieve their own ambitions."
Steve Bagshaw CBE – Doctor of Science
Wednesday 13 July
Steve Bagshaw started his career as a graduate chemical engineer at The University of Manchester Institute of Science and Technology (UMIST), progressing to varied roles with ICI, Zeneca, Avecia and MSD, both in the UK and USA.
Today, Steve has over 35 years of experience across the biotechnologies and fine chemicals business and manufacturing sectors. He was CEO for six years at global manufacturing and development organisation Fujifilm Diosynth Biotechnologies, having previously led the UK business based in Billingham.
Graduation is our opportunity to celebrate the significant academic successes of our student community
Steve is currently working with the UK Government's Vaccines Task Force as an industry advisor. He is also a Non-Executive Director of CPI (Centre for Process Innovation) and has been a Council Member of the Biotechnology and Biological Sciences Research Council since January 2021. Steve is also working with Teesside University's National Horizons Centre and York University's BioYorkshire initiative as an industrial advisory lead
Rory Underwood MBE DL – Doctor of Science
Wednesday 20 July
Rory Underwood is famed for his international rugby career, holding the record of 49 tries for England and has also won seven caps for the British Lions, touring Australia in 1989 and New Zealand in 1993. Rory played first class rugby at Leicester Tigers for 14 years and was awarded an MBE in 1992 for his services to rugby.
Throughout his rugby career, Rory amassed 3000hrs flying as a pilot during 18 years in the Royal Air Force. During his RAF career he was responsible for introducing Crew Resources Management (CRM) training into the RAF, developing a culture where personnel look at how teamwork and decision making is affected in time limited and stressful situations. Today, Rory brings his expertise in effective communication and high-performance leadership to business teams, and is an experienced facilitator, psychometric profiler and performance coach. He runs Wingman Ltd, a strategic performance company based in the East Midlands.
Tracy Isacke – Doctor of Business Administration
Thursday 21 July
Born in Teesside, Tracy has lived in Italy, Israel and California, starting her career at Xerox and rising to become one of the first female members of the UK board of directors. Following her work at Xerox she spent four years with a successful early-stage, venture-backed start-up.
In 2011 Tracy joined Telefónica Digital, becoming Executive Vice-President for New Business Ventures, where she identified investment opportunities in Silicon Valley, Israel and Europe, leading an international global partner team delivering partnerships across 25 operating businesses in Europe and Latin America.
Having joined Silicon Valley Bank in 2014, Tracy is head of the vendor transformation office, with a team responsible for third-party risk management, as well as building relationships with the bank's most strategic vendors and partners.
---
In the News
University honours ex-England rugby star Rory Underwood
Darlington and Stockton Times, Web, 27/07/2022 The former England, Leicester Tigers and Middlesbrough rugby player, Rory Underwood, received an Honorary Doctor of Science Degree from Teesside University. 
---
Rugby legend, vaccines leader and global finance expert handed honorary Teesside University degrees
Evening Gazette, p.3, Print and Web, 05/07/2022 The Middlesbrough based university will welcome back more than 4,000 students for 11 graduation ceremonies this summer.