At Teesside University Students' Union, we provide services, spaces and support for everyone completing a Teesside University course. No matter where you are based, we're here for you.
Your student officers
Teesside University Students' Union is led by a team of student officers that you vote for as part of our student body in March every year. The officers serve for at least 12 months from July and work full-time. They represent all students to the most senior figures at the University including the Board of Governors and Vice-Chancellor.
They also make sure that Teesside University Students' Union is democratic, transparent and student focused. And they lead a range of campaigns tackling issues including student wellbeing, academic issues, cost of living and accommodation.
They're your representatives too.
Meet your student officers: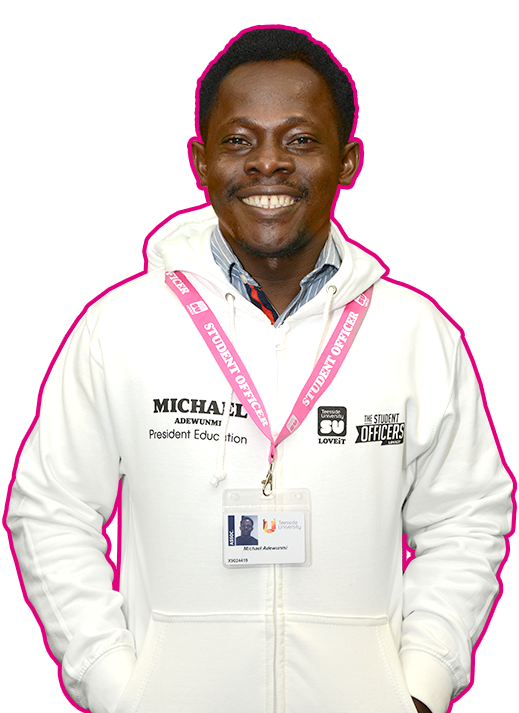 PRESIDENT EDUCATION (he/him)
preseducation@tees-su.org.uk
Michael is originally from Lagos in Nigeria, and most recently completed an MA Human Resource Management (Applied) at Teesside University. He was initially attracted to studying here after seeing high student satisfaction ratings in surveys and was convinced that the student experience is at the core of everything they do.
He chose to run for President Education after learning about the complexities of education along with the many opportunities it brings while studying in Nigeria. He felt he could apply his past and current experiences as a student to further improve everyone's experience at Teesside.
'I have a lot of plans but three goals above anything else. I am keen to see more peer-to-peer mentoring between students with those who are doing particularly well on their course or have already completed some studies sharing their knowledge and experience with newer students.
'I also want to continue the good work that has been done this year on academic misconduct to further improve student awareness of this important matter and minimise their chances of being affected by it. Finally, I want to try and widen the academic opportunities available to students, including scholarships and placements.'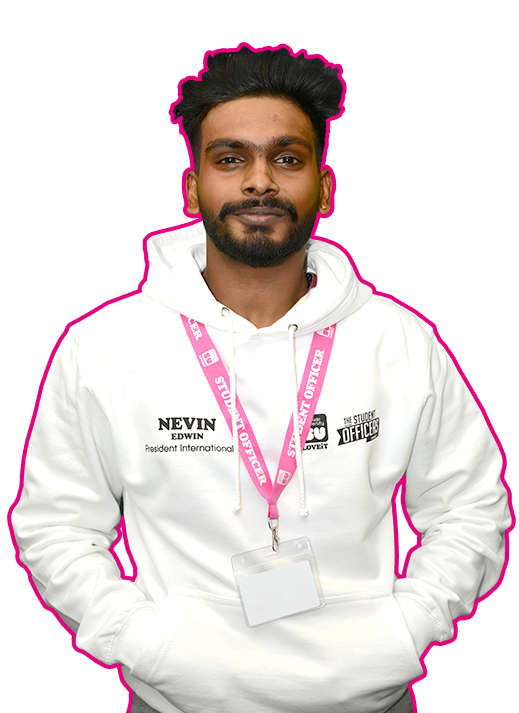 PRESIDENT INTERNATIONAL (he/him)
presinternational@tees-su.org.uk
Nevin is originally from Kerala in India and most recently completed a BSc (Hons) Project Management at Teesside University. He chose to study here after being impressed with the amenities and facilities on campus, the wide range of courses and the high level of support for all students, particularly those from an international background.
'Having studied and lived here for three years now, I feel I have developed a strong understanding of the problems and challenges faced by those who have relocated to Teesside from outside of the UK to study and live. When this brand-new role as President International came up, I recognised that it was an excellent opportunity to apply my knowledge and make a real difference to them while developing my own skills and experience.
'It's a huge honour to be the first person elected to the position, and it presents a unique opportunity for me, working with my fellow Student Officers, Reps and TUSU staff, to make life even better for international students here at Teesside, both on and off campus.'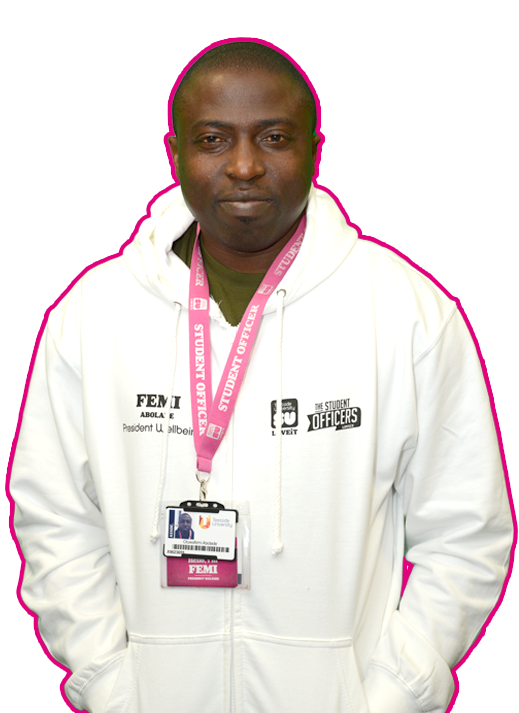 PRESIDENT WELLBEING (he/him)
preswellbeing@tees-su.org.uk
Femi is originally from Abeokuta in Nigeria and studied a MSc Public Health at Teesside University before being elected President Welfare for the 2022-23 academic year by students. And he is the lead officer supporting you, our Teesside University London students. He will complete a second year in office in the new role of President Wellbeing. He decided to seek re-election so he can continue the work he and the other current Officers have started, particularly that focussing on the cost-of-living crisis.
He also wants to continue working to improve the support that students get from both the University and Students' Union across issues such as accommodation, safety, physical and mental health, and successful study while living with a disability.
'I was delighted to be entrusted by students with the responsibility of being a trustee of their Students' Union and one of their elected officers for a second year, it is a truly wonderful thing to be the voice of students and it also continues to help me develop my skills and experience. I was even more proud to win given the level of support that the other fine candidates had.
'I want, working with my new fellow officers, to continue and build on the important work being done this year as well as doing more on other issues such as childcare and, as mentioned above, the level of support that students living with disabilities receive.'
Your student support service
Our Students' Union Student Support is independent of the University - it provides free, confidential advice to all current students wherever you're based. Our experienced team of advisers can give you online help about academic issues, housing, or anything in-between. We offer a service accredited by the Advice Quality Standard. Please get in touch to arrange a meeting by Microsoft Teams.
We are your go-to service in the Students' Union
We can help you with...
academic appeals
complaints
disciplinaries
academic misconduct
fitness to practice
extenuating circumstances
extension requests
withdrawals and suspensions
private accommodation.
Get in touch
01642 342247
suss@tees-su.org.uk
Facebook: SUStudentSupport
Your student course and School representatives
The course and School reps are here to represent your academic interests and ensure that you have a positive experience while you're studying at Teesside University London. They are volunteers and work closely with Students' Union Student Support and student officers.
It's really important to us that your voice is heard. , The reps are here to make sure that the right people in the University get to hear your feedback so that positive changes can be made together. They can deal with feedback from course reps that may need raising at a higher level or liaise with senior academic staff to address any academic issues.
At the start of each academic year, you elect your course reps to deal with any issues that may come up at course level, or to communicate any positive feedback to members of staff.