Ambitious staff start new roles at Teesside University London
Teesside University London has welcomed a number of new staff members, including two returning graduates, who will help spearhead the success of the new campus.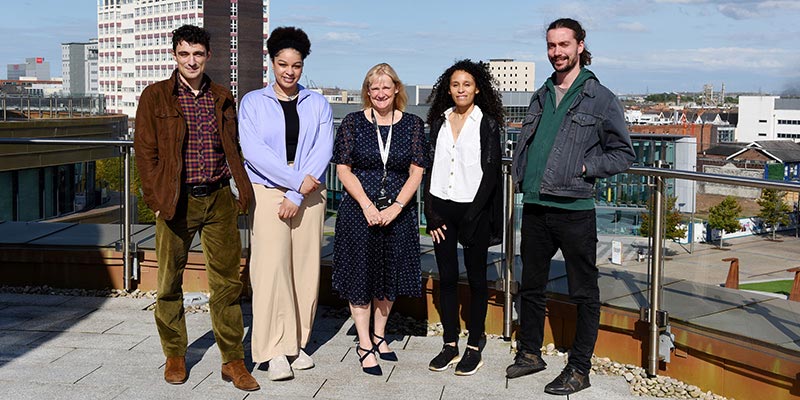 The new recruits include Teesside University graduates Nina Ellis and Alicia Cotterill, alongside Rowan Gould, Rebecca Gumbiti–Zimuto, and Viktor Hadzhiyski.
The ambitious group will play a pivotal role in enhancing the student experiences at Teesside University London, which will welcome its first cohort of students this month.
Teesside University London, based at London's Here East, will bring in-demand subjects to new markets, with an initial focus on digital technologies and enterprise. The new campus will capitalise on Teesside University's strengths in animation and games design and directly links the thriving digital cluster of Middlesbrough, with existing partners based in London.
Teesside University London reinforces the University's commitment to transform lives and economies and provide an outstanding student and learning experience.
Nina Ellis, who graduated from Teesside University's BA (Hons) Character Animation, is starting her new role as a Graduate Tutor.
She said: "It is great to return to work here and there is immense potential for growth at the new Teesside University London campus.
"I really enjoyed studying at Teesside and am thrilled to be part of this exciting project."
Viktor Hadzhiyski, who has started work as a Student Support Officer, said: "Teesside offers a fantastic working environment and I am thrilled to become part of the team."
The new members of staff recently visited Teesside University to meet colleagues and see the facilities, before starting their roles in the capital.
Rowan Gould, a Student and Operations Assistant, said: "It was great to meet everybody at Teesside. The supportive atmosphere and culture are really uplifting and something which I am extremely proud to be part of. I can't wait to get started and look forward to working with everybody."
Rebecca Gumbiti–Zimuto, also a Student and Operations Assistant, added: "I'm thrilled to be a part of Teesside University London. It is a fantastic opportunity, and I am sure the new campus will provide a great experience for our students."
Juliet Amos, Executive Director of Human Resources at Teesside University, said: "Teesside University London is an ambitious new project which is already proving to be extremely attractive for a diverse range of students.
"We are committed to driving forward its success and creating dynamic opportunities for students and staff.
"We are delighted to have appointed these new roles for Teesside University London and I am sure our new colleagues will thrive in their respective areas."
---