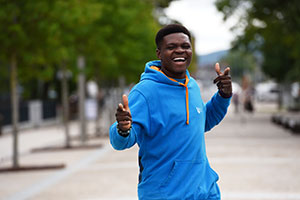 Apply
Are you interested in becoming a Student Ambassador?
It helps to thoroughly read the job description, person specification and application guidance before you apply.
Attend one of our events (listed below) to find out more about the role and the recruitment process. We'll also give you some hints and tips for completing your application.
Download and complete the application form. Once you've completed it, send it to studentambassadors@tees.ac.uk. Alternatively you can hand it in at the Department of Student Recruitment & Marketing, The Printworks reception, TS1 3AH.
Application form
Download the application form.
After the application deadline we shortlist all applicants. We'll let you know if you will be invited for an interview. If you are, you must complete a DBS form and provide ID.
Missed the application deadline? Don't worry. We have three recruitment cycles a year. We'll keep your application on file for the following date so you won't miss an opportunity to join the team.
---
Find out more sessions
This is your opportunity to ask members of the student recruitment & admissions team any questions you may have about the role. You will also learn about the recruitment process and how to use your skills and experience to make the best possible application. The session will outline the work opportunities and duties as a student ambassador.
---
Key dates
The next recruitment cycle for student ambassadors will be September 2019