Nikita Patel
Nikita came here through Clearing, and has enjoyed every minute.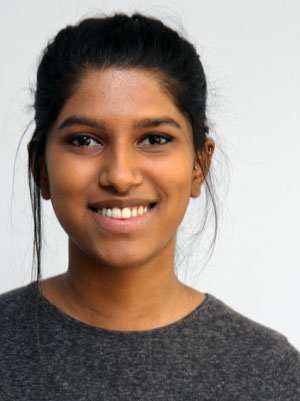 BSc (Hons) Psychology
You came here through Clearing - tell us about it?
When I realised that I hadn't got the grades I needed for the university which had offered me a place, I panicked. Teesside University is close to where I had thought I was going, and was the first place I called. The woman I spoke to was lovely – encouraging and reassuring – and the whole Clearing process was simple.
What has the course been like?
I had wanted to study psychology since before my GCSEs, and it was important to me that Teesside's course was accredited by the British Psychological Society, so that I could progress on to a career in a Psychology-related field. I have just completed Year 2, and the course has been great. There are compulsory modules in all years but we also get to choose some modules in Years 2 and 3. For my 2nd year, I chose a paid work placement with a local company, Neuro Partners. They provide care and specialist support to people with various conditions and disabilities. I used my academic learning and also got a lot of training from the company and over the past year I have worked with people with a multitude of conditions including neurological degeneration, cerebral palsy and anxiety. It has been a real eye-opener!

I have also taken part in the Students as Researchers scheme which enables students at Teesside to gain the experience of working on a live research project with a member of staff. Across two projects I've had the opportunity to recruit & interview participants, as well as gain a real understanding of the research process, which I'm sure will help me with my dissertation.

Next year I plan to continue with the placement module, and I'll also write a 6-10,000 word dissertation on Post-Traumatic Stress Disorder. This summer I will be working at a special needs summer camp in Canada, and then travelling in North America for a month.

What about the rest of University life?
I have really enjoyed living in Middlesbrough. In Year 1 I shared a flat with a group of first and second year students – the 2nd years looked after us and showed us the ropes, including where was best to go for a night out. I shared a house with some of the same group in Year 2, and because they are now finished at Teesside, I am getting a house with some other friends next year.

I joined the Kayak Club in Year 1, and now I'm on the committee. We train all over the place, including the Tees Barrage which is a 10 minute drive away, and we compete against other universities in British Universities and Colleges Sport events. I'm not that competitive – I enjoy the sport, and the active social life that comes with it. We regularly do kayaking trips to local rivers and the River Tees is certainly one of the best! We also plan trips further afield to Scotland and the French Alps as a club. When the surf's up we enjoy kayaking at Saltburn too. This year we did a joint summer trip to Scotland and also an experience swap with the archery club. Generally we mix with people who enjoy other sports like climbing and mountain biking, but lots of our non-sporty friends join us at the pub and on nights out too!

What are you plans - after you graduate?
When I graduate I hope to continue to a doctorate, which I could do here at Teesside, and then to work in the field of military clinical psychology. Teesside University has been great for me. I don't have any regrets about coming here.