Home ›
Ambassador profile
Godly Shagee
BSc (Hons) Aerospace Engineering
You have tons of fun and there's so much experience to be gained.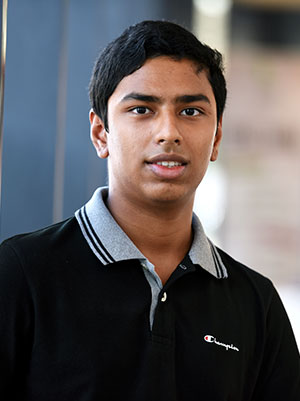 Tell us a little about your studies
My aerospace course is really interesting – it's giving me a great theoretical understanding of aerospace and I am putting my learning into action through some brilliant practical activities. Recently for example, I visited RAF Leeming as part of my course. We saw the hawk jet and learnt how its features enable it to successfully carry out its task. I've also been involved in a great project called TU2Space and we aim to be the first people to launch a rocket from the UK!
How long have you been a student ambassador?
Almost three years.
Where are you from?
Middlesbrough.
Why did you want to become a student ambassador?
The role offers so many interesting opportunities, it's a really good way of getting involved in new things and helping with course-related events. Being an ambassador really broadens your skillset and experience and ultimately makes you more employable.
What's the best part of your role as an ambassador?
The best part is definitely helping out at events. Many of the university's events run smoothly because student ambassadors are there to give a helping hand. It feels good to know that you have had an active role in making such a big event a success.

Another really good part about my job is working with all of the other great ambassadors. I've met other students from various stages of their studies. It's a great chance to work with people you wouldn't normally come across on your course. You'd be amazed at the variety of courses the ambassadors are studying!

What sort of work have you been involved with?
I've assisted with open days, the Year 12 residential summer school, campus conferences and STEM events related to my degree. I've helped with some brilliant engineering events for school pupils, using Lego to teach the principles of engineering – that has been great fun. I've also worked on events where we help school pupils to experiment with virtual reality.
What's your favourite thing about Teesside?
It has to be the diverse range of opportunities available. I've had the chance to do some volunteering, be a course representative, get involved in a space mission and of course, be a student ambassador.

Teesside offers so many excellent prospects and this means that after you graduate, you will leave with an amazing array of experience as well a degree.

What would you say to anyone thinking about applying to the ambassador programme?
Go for it! You have tons of fun and there's so much experience to be gained.


Are you interested in becoming a student ambassador?
---