Home ›
Ambassador profile
Lin Fidgin
BSc (Hons) Adult Nursing
The ambassador programme offers a vast array of opportunities across many different sectors.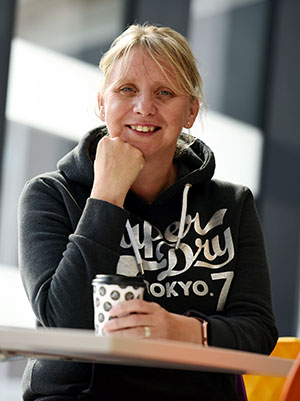 How long have you been a student ambassador for?
Almost four years.
Where are you from?
Stockton on Tees.
Why did you want to become a student ambassador?
I applied as I wanted a flexible job that I could fit around my studies. The ambassador programme offers a vast array of opportunities across many different sectors, ideal for enhancing my CV. As my course is very small I also wanted to get to know more people across the University to widen my student experience.
What sort of work have you been involved with?
I have had the opportunity to work with local and national businesses, including Virgin Money and Burberry. I have worked with young people of all ages in the community, at University and in school settings, including an eight week placement in a SEND school.

I have also worked with NECOP and NERAP as a student mentor, working to raise the aspirations of young people in the North East. My work with NERAP has involved working with young looked-after people and young carers and their families. As part of this I was fortunate to work at various events with NERAP including a three day residential across the five North East universities.

I have had office and admin experience and I have worked at many public-facing events such as open days here at Teesside University and national recruitment events.

What's your favourite thing about Teesside?
The University and the good nature of Teesside folk.
What's the best part of your role as an ambassador?
I love the variety of work situations we have access to and I really appreciate the flexible hours of the job. Most of all I like the comradery of the role and just how much my social circle has grown as a result. I have met so many wonderful people from the UK and around the world and my university experience has been so much richer because of my job as a student ambassador.


What would you say to anyone thinking about applying to the ambassador programme?
Do it! You won't regret it!
Are you interested in becoming a student ambassador?
---