Home ›
Ambassador profile
Priya Ahmed
PhD Health Psychology
The potentially endless opportunities is what makes this role exciting – get applying!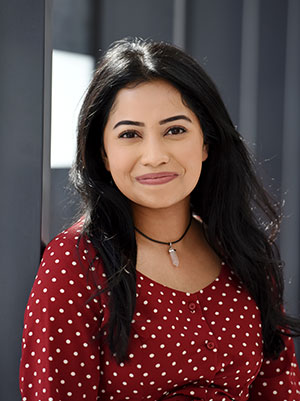 How long have you been a student ambassador for?
Four years.
Where are you from?
Stockton on Tees.
Why did you want to become a student ambassador?
I was keen to develop my skills outside of academia and gain new experiences that would increase my employability, skills and confidence. I was always interested in joining the programme from meeting current ambassadors at the time who were very friendly and enthusiastic about their jobs.


What sort of work have you been involved with?
I have been involved in a range of activities including open days, delivering workshops and presentations – all of these activities have allowed me to work with many different departments across the University.

I was also given the opportunity to explore the UK by representing Teesside University at national recruitment events around the country.

What's the best part of your role as an ambassador?
Definitely working with people and the exciting networking opportunities.. I worked with pre-16 and post-16 students as well as the general public through external events.

As an ambassador, you're part of a close knit family and always feel supported.

What's your favourite thing about Teesside?
There is such a great atmosphere on campus with loads of opportunities across the University to meet new people from around the world. There are also so many new, modern facilities to help you get the best from your studies. It's a great place to study and work.

My favourite thing about Teesside is that it's a people-place and offers such an amazing learning environment.

What would you say to anyone thinking about applying to the ambassador programme?
Come into the role with an open mind, regardless of what your future plans are. Be prepared for new experiences which will push you to develop transferrable skills.

The potentially endless opportunities is what makes this role exciting – get applying!

Are you interested in becoming a student ambassador?
---