Student views
Rosemary Stubbs
PhD researcher and Gallery Assistant, Middlesbrough Institute of Modern Art (MIMA)
MA Cultural History
Being able to decide on how I wanted to develop my own study was the best thing about the course.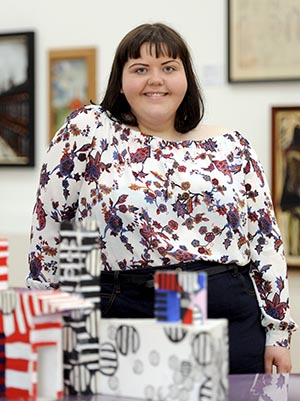 Why Teesside?
I studied at Teesside University as an undergraduate and was fortunate to be awarded a studentship from the AHRC Heritage Consortium to continue my studies at postgraduate level. Knowing that the history department staff were so helpful and supportive encouraged my decision to return to study.
What was your course like?
The course was hard work, with a lot of self-directed learning, but it was great preparation for my current PhD study in Cultural History and has helped me to better understand my field and to develop my own specialisms.

The course allowed me to facilitate a film screening and talk where I work - Middlesbrough Institute of Modern Art (MIMA), which encouraged further participation in public engagement. Being able to decide on how I wanted to develop my own study was the best thing about the course. My classmates were great, and we are still in touch. I met my best friend on the course. It's really great to see how everyone has progressed from there, with other students taking further study, like myself, and some working in Higher Education, teaching, and other diverse fields.

What was your favourite module?
My favourite modules were the Negotiated Learning modules. These allowed me to work on subjects that I had an interest in, with great support from the history team through the allocation of supervisors. This allowed me to undertake archive study, enabling me to develop advanced research skills.
What was your social life like?
Teesside is a really friendly place. There are great places to go out for food and drink, and a range of exciting independent businesses across the region, with most of these very close to campus. The area around the University is great for galleries, live music and arts venues. There are also great beaches and stunning countryside just a bus ride or a train journey away.
What have you done since graduating?
Another studentship from the AHRC Heritage Consortium has enabled me to pursue my PhD in Cultural History. My project looks at feminist arts practice in 1970s Britain and how this can inform the study of women and work.