Andrew Richardson
Andrew Richardson came to Teesside to develop his passion for sports, and his career as a sports scientist.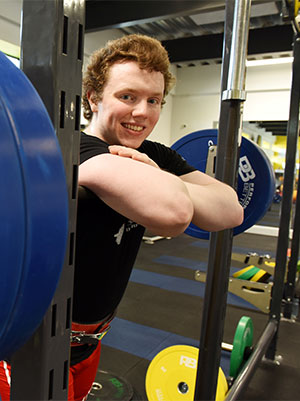 BSc (Hons) Sport and Exercise (Applied Sport Science)
"Sports Science is a competitive field, so I knew I had to get a good quality degree with a range of experience to land a high ranking job. "
Why did you opt for Teesside University?
I wanted to leave Ireland and become a more independent person. I was interested in sports courses, and the North East is a very good area for sports. I found Teesside University through UCAS, and when I looked into the course structure on the University website, my mind was made up.
What was it that made you choose your course?
Sports Science is a competitive field, so I knew I had to get a good quality degree with a range of experience to land a high ranking job. The Applied Sports Science degree is aimed at working with elite level athletes and understanding how to improve athletic performance through strength and conditioning, applied biomechanics, physiology, psychology, nutrition and much more. This course allowed me to apply all the modules I have studied to an array of different sports, which gives me the skills to be more employable.
What did you enjoy about the course?
My favourite modules were Applied Biomechanics, Physiology and Sports Psychology. They were interesting subjects and I could relate the theory back to my powerlifting to push my performance. I also enjoyed the hands-on practical sessions that allowed me to use all the sports science facilities and biomechanics equipment.
And how about University life?
I tried to enjoy the social side of university as much as I could. I made sure I got my work done first before going out. It is important to get out meet new people and enjoy yourself. The best nights out for me were at the Students' Union and Go Ninja.
I was the founder and coach of the Teesside Barbarians Powerlifting Club. I enjoyed being part of the AU (athletic union), supporting other teams and training with a group of likeminded individuals. It was nice to go out on socials after competitions with my friends for team meals at Manjaros or at the Students' Union.

Did you use the careers service?
The careers service improved my experience at university. I would recommend it to anyone who studies at Teesside. I was spurred on after attending enterprise workshops and careers meetings with my careers advisor, and I saw a gap in the market that would let me earn money without distracting me from my university work. I set up my own online training business where I sell programmes to athletes across the UK and Ireland in many sports. I provide consultations and coaching to these athletes in their preparations for competitions.
And what are your plans for the future?
Setting up the powerlifting club gave me experience in coaching athletes. This has no doubt made me into a better coach and sports scientist. I also sourced my own internships during the holidays, working with local rugby teams, coaching powerlifting, rehabbing clients and providing strength and conditioning plans to multiple athletes and teams across the UK and Ireland.
I hope become a lecturer after I do my MSc in Sport and Exercise Science at Teesside, as well as developing my business, but first, I am representing Ireland at the World Powerlifting Championships in Texas, USA.