Catriona Thomson
Sports Therapy graduate Catriona Thomson has a new role, as an honorary masseur for the England Women's Rugby League team.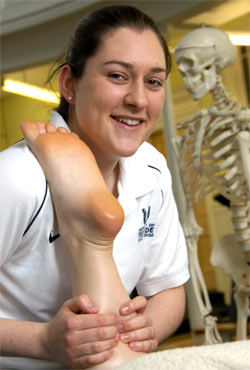 BSc (Hons) Sports Therapy
Tell us about your new role
My voluntary role as an honorary masseur for the England Women's Rugby League team lasts until December 2010, when it will be reviewed to see how I have worked in the team. If successful I could be kept on until the 2012 Rugby League World Cup.
How did it come about?
I saw the masseur post advertised on a University noticeboard, applied and was shortlisted for interview in Leeds and achieved the post. I am one of three masseurs working in collaboration with the team's physiotherapist. I was over the moon to get the post. I didn't really expect to get it. I thought there would be people with more experience. The masseurs and physiotherapist will be working together to make sure the squad of 50 keeps in shape.
What are you looking forward to?
The experience of travelling with the team and working with elite level athletes. I play women's rugby union myself, so I have some insight into the demands that are placed upon the league players. I enjoy the team spirit and socialising with my team mates.
What else are you doing?
I have returned to the University to study a master's degree in advanced sports therapy and rehabilitation. Eventually I want to work as a sports therapist for an international rugby team.