Once available, your timetable can be viewed by accessing the calendar within the student portal, MyTU. You are expected to check MyTU regularly as class times and rooms can change week by week.
Please note: School of Health & Life Sciences students studying a nursing programme need to contact their course leader for nursing timetables.
You can access MyTU via the web: mytu.tees.ac.uk, or by installing the MyTU app.
You will be automatically notified of certain changes to your timetable, such as change of day, time or room, if these changes are made within 72 hours of the scheduled activity. This will be via notifications linked to MyTU. We advise you to regularly check your MyTU calendar as we do not send notifications for longer range changes.
Use our campus map to find a room:
The location allocated in the timetable will follow the format of building prefix, floor level, room number, and are linked together into an alphanumeric character string, as illustrated below: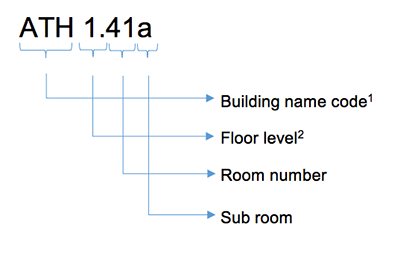 1. The building name code consists of one, two or three letters. These letters will be the first letters of the building name or are letters that are associated with that building.
2. Ground level is defined as 0 or sometimes as G, above ground level rooms are positive numbers, below ground level rooms are negative numbers.
You may be able to change seminar/practical groups if this is permitted on the module in question. Changes will only be processed if there are spaces available in your desired group, it fits in within your timetable and doesn't create a clash.
If you wish to request a change of seminar/practical group, your request must be submitted on the following online form.
Contact us
---