Teesside University lecturer receives award from Renewable Energy journal
Dr Gobind Pillai, from Teesside University's School of Science and Engineering, has received a prestigious Top Reviewer Award from world-leading journal, Renewable Energy. The journal is produced by the highly-respected academic publishing company Elsevier, whose other publications include The Lancet, Cell, and Gray's Anatomy.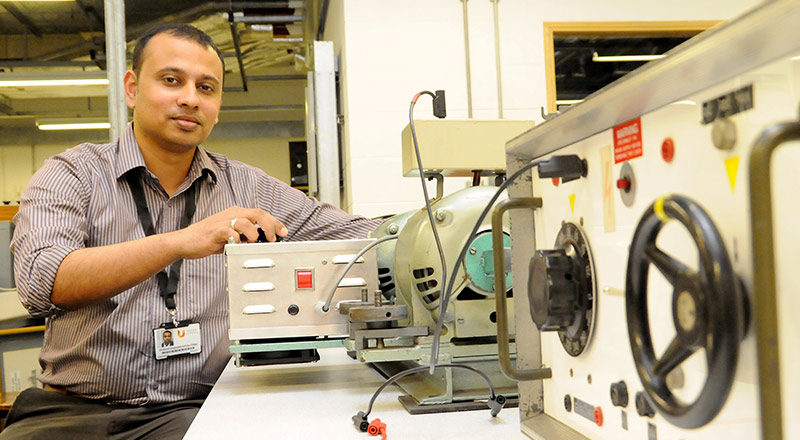 Dr Pillai received the Top Reviewer Award in recognition of his contributions to the quality of the journal and the advancement of the field of renewable energy.
Dr Pillai said "I am very proud to have been selected for this award and to receive this prestigious recognition for my work. Teesside University has made significant investments in 2015 in setting up state of the art experimental facilities for electrical power and renewable energy engineering. The award is confirmation that the University has the right mix of talent and facilities in these engineering subject areas to provide an enhanced student learning experience."
Originally from India, Dr Pillai joined Teesside University in 2014. In addition to his work in academia, Dr Pillai also has industrial experience in India and UAE spanning across the maintenance of steel plant electrical machinery, electrical power distribution and building services engineering.  His research focuses on grid integration aspects of renewable energy sources, distributed generation, smart grids, load profiling, demand side management, and economic & environmental impact analyses.   He is the programme leader for MSc/PgDip in Electrical Power and Energy Systems and also teaches a variety of modules within MEng/BEng programmes on Electrical and Electronic Engineering, and Instrumentation and Control Engineering.
---
In the News
Law student on track for Paralympic Games in Rio
ITV news Tyne Tees & Border, 22/08/2016; BBC Radio Tees, 22/08/2016; ITV Spotless, 22/08/2016; Northern Echo web, 23/08/2016; Northern Echo, 23/08/2016; Gazette Live, 23/08/2016;BBC Radio Tees 22.08.16:Express North (Blog) 23.08.16:Evening Gazette 24.08:
Wheelchair racer Jade Jones, who is studying a law degree at the University, has been selected to represent ParalympicGB and is flying out to Rio de Janeiro at the end of this month.
---
Lecturer's accolade from top journal
Evening Gazette, 25/06/2016
Dr Gobind Pillai has received a Top Reviewer Award form the Renewable Energy Journal.