Exhibition offers opportunity to learn more about artists' work
A thought-provoking exhibition which touches on ideas around separation and discrimination will see a ground-breaking artist talk more about his work with Teesside University's Dr Madeline Clements.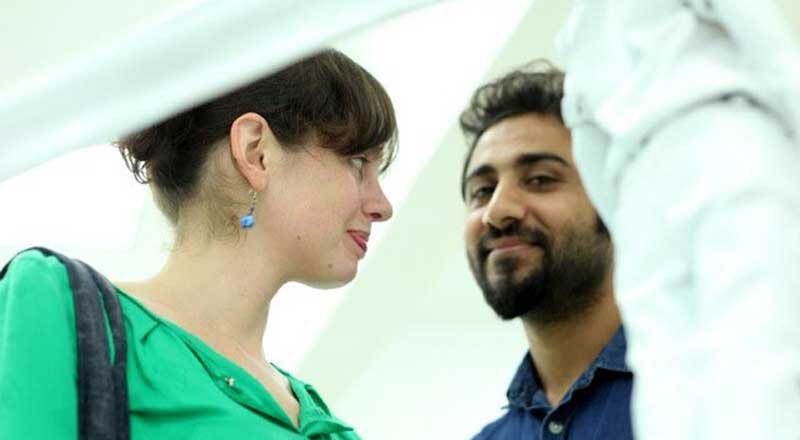 Beyond the Shadow of a Doubt is an exhibition by Pakistan-born artist Saud Baloch which is currently on display at Hartlepool Art Gallery.
It brings together sculptural works and large scale drawings to communicate ideas around the unequal treatment and marginalisation of minorities.
Born in Nushki in the Balochistan province, Saud trained at Lahore's National College of Arts.
He said: 'What you see in my drawings and sculptures, what I am trying to communicate, and what is reflected, is peoples' desire to realise their human rights; to live without fear, have a good life, and to benefit from what belongs to them.
'The discomfort of those who are discriminated against and deprived of such rights, and the pains they endure as they struggle to sustain unbearable burdens, endure and survive, is also ever present.'
Saud is married to Dr Madeline Clements, a Senior Lecturer in English Studies in Teesside University's School of Social Sciences, Humanities & Law.
Dr Clements specialises in postcolonial South Asian Muslim art and literature and her current research explores how the condition of Pakistan's ethnic and religious minorities are represented.
She will be 'in conversation' with Saud, shedding more light on the origins of his work during an informal talk at 1.00pm, on Wednesday 1 November, at Hartlepool Art Gallery.
As part of the Beyond the Shadow of a Doubt exhibition, there will also be a poetry reading and creative writing workshop at Hartlepool Art Gallery on 27 October with internationally-known poets and Teesside University creative writing academics Bob Beagrie and Andy Willoughby.
The creative writing workshop responding to Saud Baloch's work will take place from 4.00pm to 6.00pm, followed by a poetry reading at 6.30pm.
Beyond the Shadow of a Doubt is open now and runs until Saturday 11 November. Hartlepool Art Gallery is located in Church Square and is open Tuesday to Saturday, 10.00am to 5.00pm. For further information, call (01429) 869706 or visit Hartlepool Art Gallery website.
---
In the News
Exhibition offers opportunity to learn more about artists' work
North East Connected (Web)09/10/2017:
A thought-provoking exhibition which touches on ideas around separation and discrimination will see a ground-breaking artist talk more about his work with Teesside University's Dr Madeline Clements