Student project is a stroke of genius
A student-built crazy golf course made entirely from upcycled materials is to debut at a popular regional festival.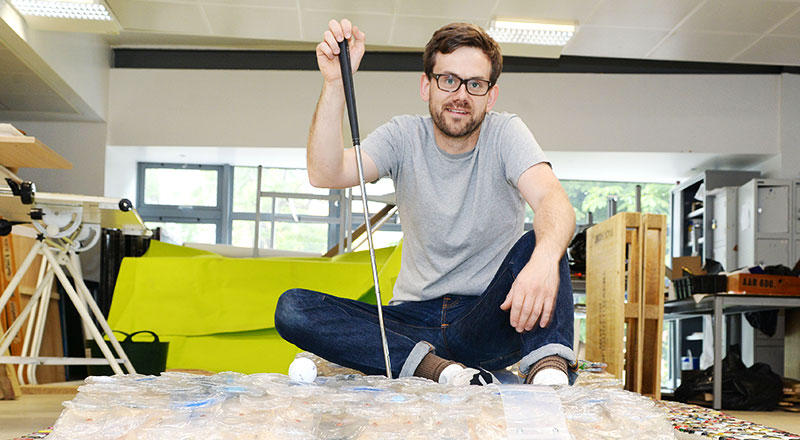 Leading the project is Charlie Tait, Senior Lecturer in Graphic Design and Digital Media, who tasked his second-year graphic design students with the live brief as part of a module on their degree. This work over the summer break has since been developed and realised by Charlie and a team of student volunteers.
The portable course, which includes six holes, will be installed at the upcoming Deer Shed Festival in Thirsk from 20 to 23 July where more than 10,000 people will have the chance to play on it.
This year's festival theme is 'Making Waves' and the students have incorporated the theme into their work, from an interpretation of the waves of the ocean, to another based on soundwaves where the player can create sounds as they play.
Upcycling, also known as creative reuse, is the process of transforming by-product, waste materials, useless or unwanted products into new products of better quality or for better environment value. Students have had to source and use a range of materials to construct the course including more than 1,500 bottle caps, plastic bottles, used laminate flooring, unwanted carpet tiles from office refurbishments, school gymnasium flooring and astroturf.
Charlie said: 'The project has really made students consider design ethics and design responsibility. When you are designing work to go out into the world, it is important to think about the impact your work has. The portable golf course draws attention to single-use products, for instance the waves of the ocean are made up of plastic bottles, highlighting the damage plastic waste has on ecosystems and oceans.'
When you are designing work to go out into the world, it is important to think about the impact your work has.
Students on design courses at Teesside University are regularly encouraged to take part in live briefs and projects to gain real-world experience alongside their studies. Those involved in the crazy golf project used a wide range of skills from the initial ideas process and responding to a brief, to prototyping and testing to make sure the ideas work.
'Because the course uses upcycled materials, we've had to adapt to the materials available throughout the project. As well as visual ideas and detail we've worked hard to test and refine the course to ensure it is enjoyable and fun for people and not frustrating to play on. The skills students have developed from this live project can all be applied to industry,' added Charlie.
Deer Shed takes place at Baldersby Park in Topcliffe, Thirsk, and is headlined by English electronic music duo Goldfrapp. After Deer Shed, Charlie and the group hope to take the course to other festivals and events around the country.
---
Courses
---