Students share skills to create workforce app
Creative computing students have devised innovative new software to help simplify work procedures for NHS staff.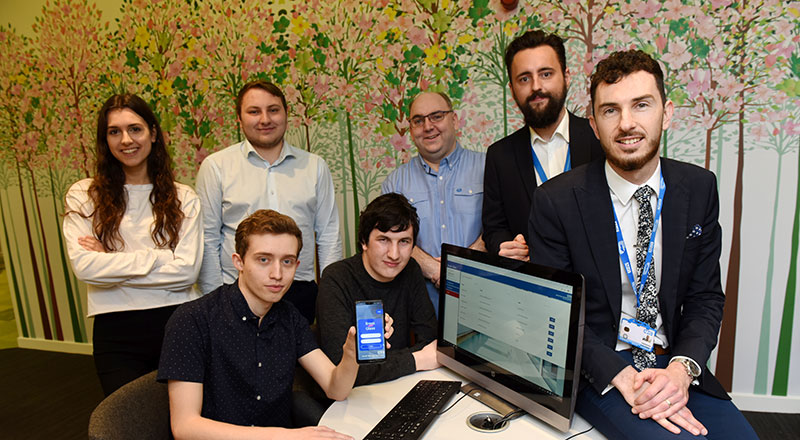 Students from Teesside University's School of Computing, Media & the Arts have created a mobile app which can be used by staff when working away from the office.
The team of students were tasked with finding a solution to a business need to simplify an authorisation form, still complying with NHS improvement guidelines.
Adam Ruddock and Jamie Waters, from North Tees & Hartlepool NHS Foundation Trust's Directorate of Nursing, Patient Safety and Quality, visited the University to meet the final year students who created the app which can be used by trust employees in relation to authorisation.
Adam said: 'We were really impressed with what the students came up with and their understanding of the concept. Their solution will allow us to operationally comply with NHS guidance in a live environment, resulting in efficiencies across the organisation.'
Jamie added 'We were really impressed with the integration with our workforce systems and the skills of the students. It has been really positive and we are keen to work with the University on more projects like this.'
It has been really beneficial working with an external client and gaining that experience
BSc (Hons) Computing student Matthew Charlton, said: 'We were tasked with simplifying an authorisation form which staff need to complete, making it less complex and more user-friendly.'
The students, working as Team Internauts, also included BSc (Hons) Computing student Francesca Zealley, BA (Hons) Web & Multimedia students Joe Hutchinson and Alex Watson and BSc (Hons) Web Production student James Scott.
Matthew added: 'Coming together from different degree courses means we brought various skills to the team, ranging from design and development to research and project management.
'It has been really beneficial working with an external client and gaining that experience.'
Dr Myriam Mallet, Senior Lecturer in Digital Media and the Web, said: 'Giving students an opportunity to work on live projects and deal with client focused business solutions is vital as it prepares them well for what is to come in their future careers.'
---