Teesside academic gives new life to rare Invalid Carriage
A rare Invalid Carriage is being reunited with part of its history after 73 years, thanks to the work of a Teesside University academic and his team of volunteers.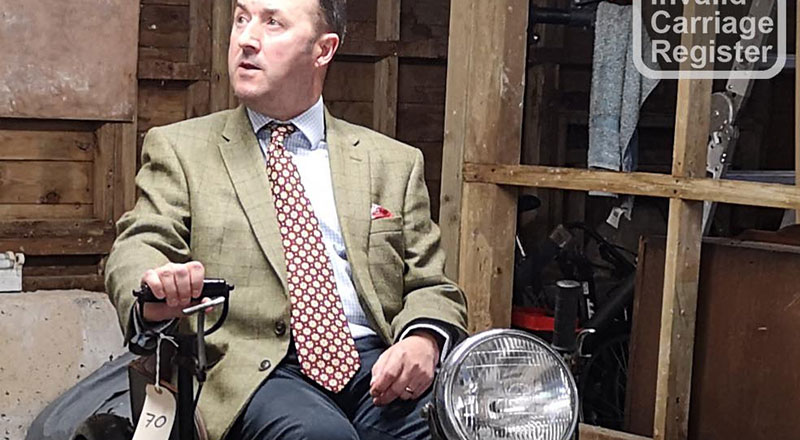 Over the past year, Simon McKeown has been working on a National Lottery Heritage Fund project called The Carrying of Passengers is Forbidden. This research aims to uncover the hidden history and heritage of the Invalid Carriage and its users.
Simon, a Reader in the MIMA School of Art at Teesside University, has an extensive collection of disability vehicles, one of which has particular regional significance. In 1946, the Finchale Training College was located on the outskirts of Durham City, offering rehabilitation and retraining for people with life-changing injuries.
It was also the year in which one of the residents, an injured airman, received an Argson Invalid Carriage. Many years later, this vehicle entered Simon McKeown's collection but he was not previously aware of its full history.
Finchale Group CEO, Mel Pears, along with his staff, have been fully supportive of the research being done. Veterans Services Manager, Mark Steed, was thrilled to see the vehicle for the first time this year.
Although the airman has not yet been traced, it has been possible to piece together a most likely scenario based on known circumstances. The fact that Finchale Group continues to support service personnel and vulnerable people gives the project added poignancy and relevance to their modern clients.
The Finchale Invalid Carriage will be making a very special appearance when it returns to the modern-day Finchale Group for an exhibition for Armed Forces Day 2019.
The exhibition can be seen from 27 June until 12 July at Finchale Group, Richard Annand VC House Mandale Park, Belmont Business Park, Durham.
More information about the event can be found on the Invalid Carriage Register Facebook page at @invalidcarriageregister.
Simon's work was recently recognised by the Arts and Humanities Research Council with a Gold Standard in recognition of his consistently high level of performance and extremely valuable contributions.
---