Prestigious teaching fellowship for former sports therapist
Paul Chesterton left a career as a sports physiotherapist working in professional football to fulfil his passion for teaching and research.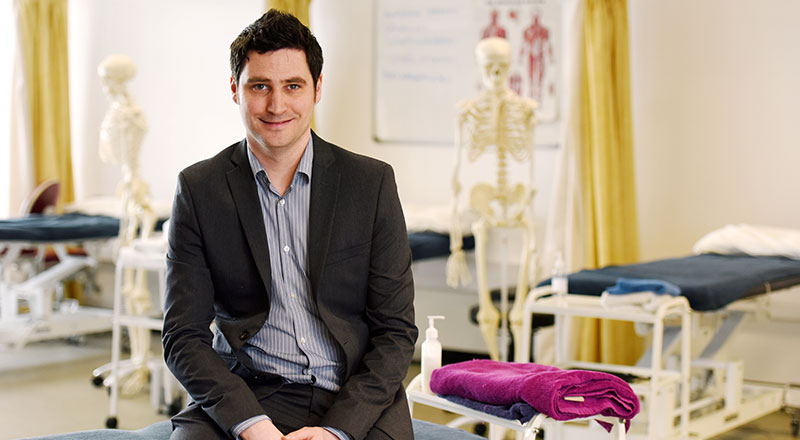 Having gone from working with Premier League footballers, six years on Paul is now inspiring the next generation of physiotherapists. And his work with students has today earned him national prestigious recognition.
The Senior Lecturer in Sport and Exercise (Sports Therapy and Rehabilitation) in the University's School of Health & Social Care, has been awarded a National Teaching Fellowship in recognition of his contribution to excellence in teaching and learning.
Paul is one of 54 new National Teaching Fellows to be announced by Advance HE today (5 August).
The National Teaching Fellowship Scheme (NTFS) showcases the outstanding impact of individuals who teach or support learning in UK higher education, recognising their success and providing a platform to share the learning from their practice
Paul said: 'It's a tremendous honour and a fantastic accolade to be awarded a National Teaching Fellow. It is excellent recognition of some of the work we are doing at Teesside.
'I am extremely proud and humbled to have been awarded this fellowship following in the footsteps of some fantastic leaders and educators.
'Personally, this award reinforces my belief in the learning and teaching strategies I have implemented and been part of at Teesside University. As a department and team we are striving to push the boundaries of excellence and it is humbling to be recognised in this way.
Paul added: 'I came to Teesside University as I felt it was the right place to learn and develop my own career through the expertise and willingness of staff to engage and believe in the University mission.
'As a Fellow, being part of a prestigious community will enable networking and knowledge exchange to continue to develop our teaching initiatives to support our graduates to be the very best they can and succeed in their chosen careers long after they have left Teesside.'
He added: 'I left a career as a physiotherapist in professional football to join the University as I have always had a passion for teaching and research. Teesside is a great place for both staff and students to study, develop and challenge.
As a department and team we are striving to push the boundaries of excellence and it is humbling to be recognised in this way
'We have a supportive culture and are dedicated to improving the lives of our students and the local community. Being part of the University 2025 journey is an exciting honour.
'The award will help to provide a platform to continue to push the boundaries of how I teach and by placing students at the heart of everything I do. It is fantastic recognition which also provides a foundation to continuously develop initiative practice to provide high quality education for my students.'
Paul is a trustee of the Chartered Society of Physiotherapy Charitable Trust and is a board member of the North East Musculoskeletal Society. His research interests include hamstring injury prevention, pain education, musculoskeletal injury management and the impact of training load. He is currently involved in collaborative research with professional football clubs and researchers from higher education institutions.
Alison Johns, Advance HE's chief executive, said: 'Becoming a National Teaching Fellow is a huge achievement. It can be truly life-changing. Creating ambassadors for innovative and impactful teaching who are valued by institutions and colleagues, and who can set in motion change and enhancements to make a really positive impact on student experience and outcomes across their institution and beyond.'
Dr Ben Calvert, Deputy Vice-Chancellor at the University of South Wales and Chair of the 2019 Teaching Excellence Awards Advisory Panel, said: 'These awards really are the pinnacle of reward and recognition in teaching and learning.
'The 2019 winners are rightly proud of their achievements and I am sure they will continue to share their knowledge as individuals and teams so that their institutions, colleagues and the wider higher education sector can benefit from their expertise.'
---