Professor Mark Simpson on Student Life
It's an exciting time for us as we get ready to open the brand new Student Life Building. But what does Student Life actually mean for students? We spoke to Professor Mark Simpson, Pro Vice-Chancellor (Learning and Teaching), to get his take on it.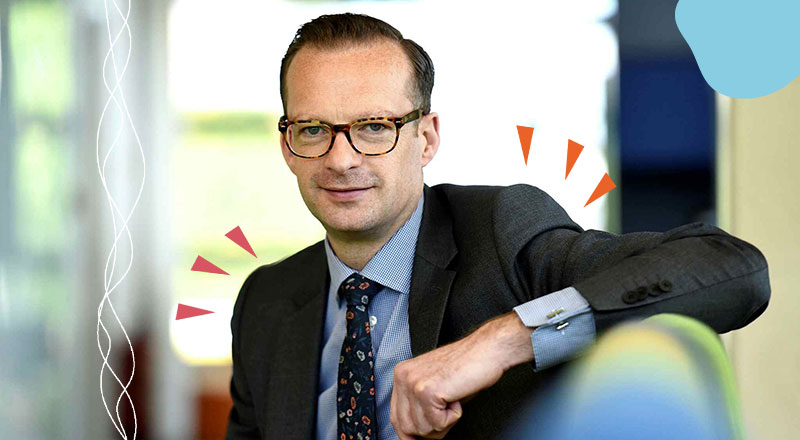 Tell us a bit about yourself – what brought you to Teesside?
I first came to Teesside University as a student in 1992. I studied politics before going on to do my PhD on the legalisation of drugs. The rest is history!
What do you enjoy most about your job now?
I really enjoy the variety of my role. I like meeting students through my work, putting new initiatives into place and working with students to improve their overall experience at Teesside.
You're not originally from Teesside, but you've stayed here since your own degree. What do you like most about it?
I like the people. The Tees Valley is a very friendly place and that's captured within the University. At our open days, people always comment on the friendliness of the people.
I also like how close we are to the countryside. What people don't always realise is that, here, you are on the doorstep of real beauty. I do a lot of trail running on the moors, so it combines my two loves of the countryside and running.
What are your hopes for Student Life? Where did the idea come from?
With Student Life, we hope to capture everything a student would need outside of the classroom. One of my concerns was that students could be ping-ponged around campus for various services, so I really wanted to address this and put everything they might need in one place.
But the Student Life Building will be more than just a one-stop-shop. Much more. We'll work with our students to provide a really integrated set of services - we want to answer as many queries at the first point of contact as possible. We're going to make Student Life a really vibrant place and make it the place our students want to go and spend time. There'll be group spaces, private rooms, spaces for wellbeing, a digital creator lab, a great catering outlet, a pizza oven – I'll be spending time there myself!
How can students get involved in Student Life?
This will be a service shaped by students. It's in the DNA of the place. We will always respond to the needs of our students and there will be multiple feedback points.
We want to give the students a real sense of ownership of the building. We've tried to keep all of the rooms large and flexible, so we can really maximise the student spaces. If we need to change the way rooms are – we'll do it.
My vision is that it will be a really collaborative space that brings together students from different Schools and different subject areas. For instance, we might have computing students working together with health students to create digital learning materials, like simulated hospital environments.
There's a big digital wall in the entrance, and I want to work with students to create the content for this. I hope this will be a real community focused building, where we can all learn from each other.
There is more to university than just the academic side. How important do you think it is students get involved in everything university has to offer?
I think it's very important to immerse yourself in everything you can at university. I want this to be a really supportive environment where our students can really flourish and get the most out of their time here. We want students to get involved with Student Futures, try volunteering and placements so they can see if their perception of a career matches up to the reality of it.
I was really unsure what I wanted to do when I came to university and I didn't like public speaking. When I did my degree, the careers service was under-used. I think people felt nervous using the service if they didn't know what they wanted to do after university. But that is the point of it – finding out what you want to do next. Nobody knows everything.
---