Chance for students to connect with launch of maths club
Teesside University Maths Club meets bi-monthly to offer mathematics students a chance to connect and chat informally about their studies.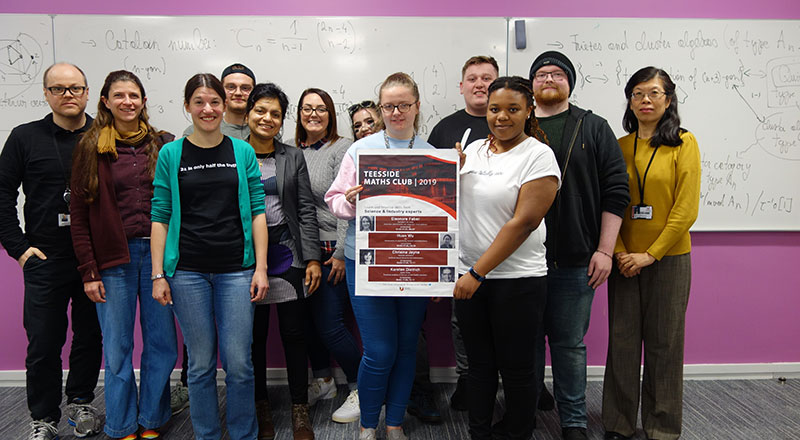 The club's first guest lecture was given in October by Dr Eleonore Faber, University of Leeds, who explained in her talk on 'Frieze Patterns' a fascinating relation between algebra, geometry and combinatorics.
The next talk, Mathematics in Engineering Research and Consultancy, will be given by Huan Wu, from TWI, on December 12, 4pm to 5.30pm, CG.25 in the Constantine Building.
Maths student and faculty in the University's School of Computing, Engineering and Digital Technologies have been running Teesside University Maths Club since October 2019.
The bi-monthly meetings offer students a chance to connect and chat informally about their studies in mathematics and how it relates to the world we live in. This can include mathematical games and student talks about maths appearing in popular culture such as in movies, novels or in the fine arts. The programme has been designed in cooperation with Associate Dean Professor Tim Thompson.
It was the first mathematical research talk I've ever attended and certainly won't be the last
During the academic year 2019/20 the maths club will host invited speakers from across the UK and overseas.
These guest lectures offer insight into the applications of mathematics in industry and business as well as outlooks on current research in pure mathematics.
First year maths student Josh Stark, commenting on the guest lecture by Dr Eleonore Faber, said: 'It was absolutely fascinating how Frieze patterns could be applied to so many different usages within mathematics. It was the first mathematical research talk I've ever attended and certainly won't be the last.'
---
Courses
---