Cameron moulding a successful arts career
Cameron Lings was already making headlines in the art world while completing his degree at Teesside University's MIMA School of Art & Design.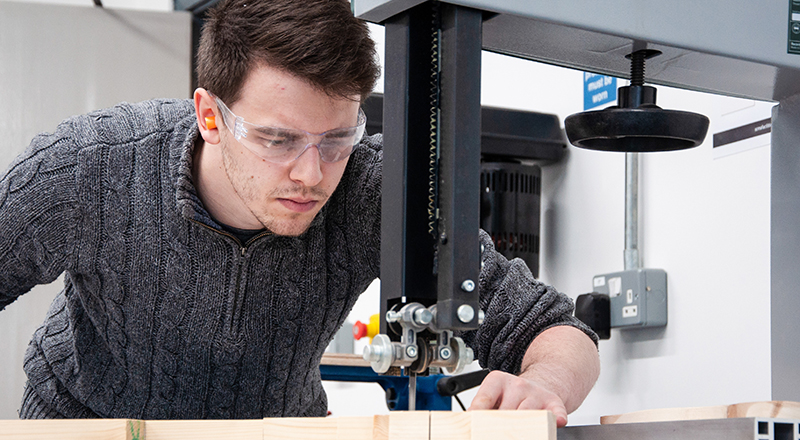 He has just finished his BA (Hons) Fine Art studies and although not able to celebrate graduation in the usual way, Cameron is looking forward to finding out if he has won a prestigious competition.
Cameron has been named for two consecutive years in a shortlist to create a design for a prestigious sculpture park in Northumberland. Last year he was among just eleven finalists competing for the title of 2019 Gillian Dickinson North East Young Sculptor of the Year, with his design Flightpaths.
This year he has again been shortlisted in the same competition, which encourages North-East artists, aged 18 to 25, to submit a proposal for an installation to be created and exhibited at Cheeseburn Sculpture Gardens.
He said: 'This year a lot of my attention has been towards my University degree show project, which unfortunately remains postponed and unfinished due to the lockdown. My project has revolved around the study of psychological, scientific and biological perceptions of time.
'This was intended to result in an exhibition featuring a single 3.5 metre-long sculpture, made from wood, chain, rope and steel, surrounded by over 150 illustrations of my research findings.'
Instead of completing his work as part of the annual degree exhibition, students submitted a document displaying their plans and progress of their work.
Cameron said: 'I cannot credit the staff enough for their thorough understanding, and for making this as painless as possible. For everyone, lockdown has exhibited its own individual challenges. For me, I have been keeping busy developing my practice, studying, reading, while also working part-time in adult social care.'
Currently living in Middlesbrough with girlfriend Sam, who is studying forensic science, Cameron added: 'We've adapted to the changes well. Just like everyone else, we're looking forward to being able to return home, and for me to begin my MA back at Teesside in the autumn.
'I also look forward to being able to play for the University Futsal Team again, once things start to return to normal.'
I am looking forward to continuing my studies to postgraduate as the facilities at Teesside are exceptional
Cameron's shortlisted entry in this year's Gillian Dickinson North East Young Sculptor of the Year, is titled On-Site Visibility 2014, with the design generated from collected data on the visibility distances from the year Cheeseburn opened. The proposed abstract structure, made mostly from Siberian Larch timber, would be two metres tall and six metres long.
Each of the shortlisted artists now has the opportunity to produce and design a scale model of their proposal, with the models to be exhibited at Cheeseburn with the public voting for their favourite.
The competition winners were due to be announced in June, but due to the ongoing lockdown and temporary closure of Cheeseburn, the public vote has been postponed until August. Cheeseburn will be taking online bookings for its open weekends in August, to ensure social distancing. The winning sculpture is due to be announced in September.
Cameron was also named 2019 winner of the Metals4U's annual Student Sculptors competition, which led to a metal-workshop residency at Yorkshire Sculpture Park last summer. His work was also recently featured in international publication ART Habens Contemporary Art Review.
Cameron, 21, who is originally from Scunthorpe, had initially considered a career in engineering, as his family had a history of working in the local steel industry. But having started his college studies, he realised it was not for him and instead pursued his interest in contemporary art.
He was offered several university places elsewhere across the country, but chose to study at Teesside due to the impressive facilities, as he felt there was more available at Teesside to develop his artistic practice.
Cameron said: 'I am looking forward to continuing my studies to postgraduate as the facilities at Teesside are exceptional. I have been working for several years with an established sculptor, who has created public art in Redcar, and my aim is to eventually work professionally in creating unique and contemporary public art.'
---