Double success for Teesside University in annual nursing awards
Teesside University is celebrating double success after scooping two awards at the Student Nursing Times Awards.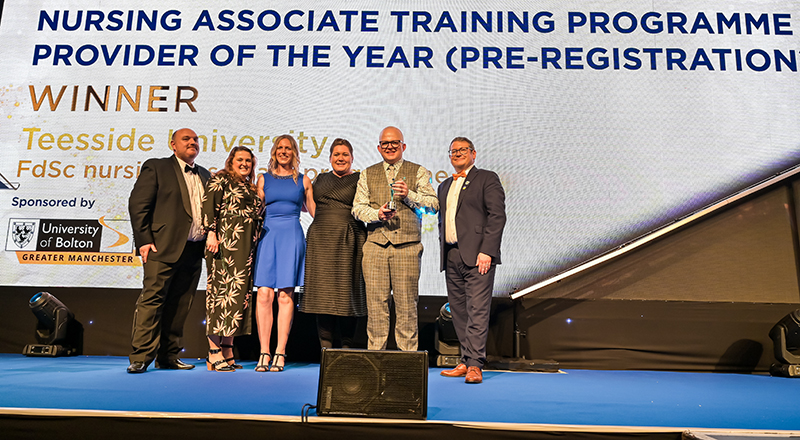 Joseph Morley, who is studying BSc (Hons) Nursing Studies (Adult), won the Student Nursing Innovation in Practice award, while the University's FdSc Nursing Associate Higher Apprenticeship was awarded Nursing Associate Training Programme Provider of the Year (pre-registration).
The annual Student Nursing Times Awards honour the best of the next generation of nurses, shining a spotlight on all disciplines of student nursing. They also provide an opportunity to congratulate the lecturers, practice supervisors, universities, trusts, and private organisations which support student nurses during their studies.
Joseph, 25, from Middlesbrough, who combines his studies with a part-time role as health care assistant in the neuro theatres at James Cook University Hospital, said: "It feels surreal to have won my category at the awards.
"I am so grateful to South Tees Hospitals NHS Foundation Trust and Teesside University for their support and encouragement."
Mark Wheatley, Senior Lecturer in Nursing Skills at Teesside University, said: "This was a fantastic event and I'm delighted that the Nursing Associate Training Programme has been recognised.
To win two awards is an amazing achievement
"At Teesside University we pride ourselves on giving our students the best possible learning experience and equipping them with the skills and expertise to excel in the workplace. This award is a testament to all the hard work that our staff and students have put in and I would like to congratulate everybody who has been involved."
Dr Ann French, Associate Dean in the School of Health & Life Sciences at Teesside University, added: "This is fantastic recognition for our students, staff and the University as a whole. It reflects the quality of the learning offer that we provide at Teesside.
"To win two awards is an amazing achievement, which everybody is extremely proud of. We place students at the heart of everything we do and to achieve success such as this reflects the hard work and dedication that we place on educating the next generation of nurses and healthcare professionals.
"We are also grateful to the wide range of partners we work with to establish our apprenticeship offer and are delighted to see this being recognised at awards ceremonies such as this."
---