Winter University
Is it for you?
A Winter University course will boost your confidence and could be your first step towards gaining a degree.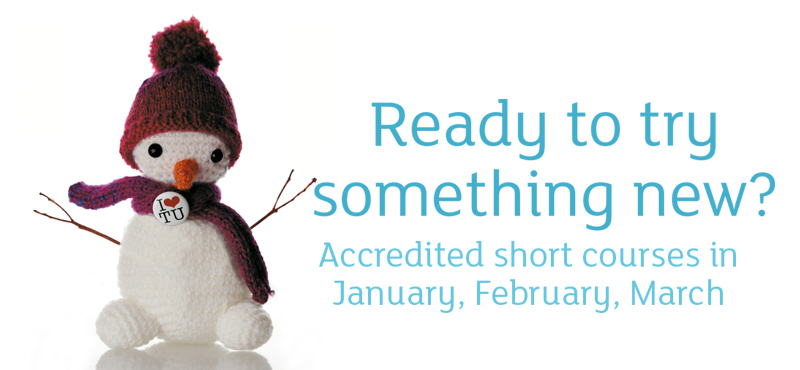 Courses

Winter University could be for you if you would like to:
return to study after taking a break from education
gain the qualification you need for a promotion
change career direction
enjoy the personal satisfaction of learning
How to apply?
Certificates
You can apply for multiple certificate courses on one application form (up to a maximum of 30 credits).
Courses appear as University Certificate of Credit on the apply online tab. If you want to add another courses after you have made your application, you can email us and we will amend your application.
What can I study?
Choose from a range of courses across many subject areas. Whatever your interests and ambitions, we have something for you. All courses are delivered at our Middlesbrough campus.

We have a range of accredited courses and workshops for you to choose from - if you complete an accredited course, you receive a certificate of credit.
What support can I get?
If you choose to study an accredited course, you can access Student Services and receive support with financial matters, health and wellbeing, careers and counselling.
More about student support
If you have a disability or a specific learning difficulty and require support to attend a Winter University courses, please email disability@tees.ac.uk.
Library
If you choose to study a course you can access the full services of our libraries. Our Middlesbrough campus library has a range of learning resources available for your studies. PCs and study areas are zoned to suit a variety of study needs. The iZone can help with general enquires and the Learning Hub helps you develop your academic skills. Some services and learning resources are accessible off campus. We also have a library at the Darlington campus.
How much will my course cost?
Fees are waived if:
you are a current Teesside University student
you have been given a conditional offer based on passing a Winter University module.
If you go on to enrol on a course of over 60 credits in September 2020-21 your Winter University fees are reimbursed.
What next?
Studying doesn't have to stop when your course ends. We hope our Winter University courses inspire you to continue your studies.
Come to one of our open days to find out what you can do after your course has finished.
More about our open days
Changes to courses
Teesside University reserves the right to change the advertised programme without notice. Running or continuing any course or class depends on having enough students enrolled and attending.
Note: If you are 16 years of age or under, you are required to have a responsible adult to act in the capacity of a parent (in loco parentis) and attend classes with you. This designated adult may also be required to undergo a Criminal Record Bureau check.
Contact us
Disclaimer
This is a general guide to Winter University and its courses and considerable efforts have been made to ensure the accuracy of information provided. Applicants are advised that developments after the guide has been published and the programmes have been completed may lead to omissions and inaccuracies in the course guide, for which the University disclaims legal liability. The information given in the course guide does not impose on the University any obligation to provide or to continue to provide, any course, module, tuition, assessment or amenity described in the course guide. For example, the University is under no obligation to offer a programme which has enrolled a small number of students. Similarly, the University retains the right to make reasonable changes in the curriculum content, method of teaching, form of assessment and location of some or all elements of a course. However, as far as possible, the University will consult the applicants or students affected before implementing significant changes; and although the University will not accept liability for any disruption to applicants or students caused by circumstances beyond its control, including but not limited to fires, strikes (of its own or other employees), insurrection or riots, embargoes, requirements or regulations of any civil or military authority (as 'event of force majeure'), the University will take reasonable steps to minimise the impact of such interference with its ability to provide educational or other services.