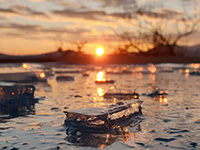 Today's young people will bear the brunt of climate change. Now is the time to stand up and speak out for what you want your future to be.
College and sixth from students are invited to join Teesside University academics and students to hear about the challenges and opportunities of climate change.
You can:
review the evidence for climate change
explore possible climate futures and the choices available for action
take part in an interactive demonstration of how the choices we make today are likely to impact future climate
explore the technologies that control and manage climate change.
find out more about becoming involved in crucial global decision-making at the UN Climate Change Conference UK 2021 COP26 in Glasgow.
Join us and become someone who can make a difference.