New Director for Clean Environment Centre
Professor Eric Senior, a respected figure in Environmental Biotechnology is the Director of the Clean Environment Management Centre (CLEMANCE).
More information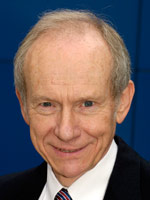 Professor Eric Senior
Professor Senior comes to the job after a varied career which has seen him occupy leading roles in universities and research institutes all over the world, including a spell of more than ten years at the University of Natal in South Africa.
His research has included the fields of landfill, domestic and industrial wastewater treatment and clean-up of chemically contaminated soil - all areas of key interest to the team at CLEMANCE. He has been recognised by the award of a Doctor of Science (DSc) by the University of Strathclyde.
Important centre for developing new technologies 'I hope to build on the work that has already taken place at Teesside and help CLEMANCE become an important centre for developing new technologies and applications in the environmental sciences field,' he said.
'We want to take CLEMANCE to the next stage in its development and I hope my network of International contacts will assist this process.'
Eric graduated from the University of Liverpool in 1974 with a first-class BSc (Hons) Botany and the University of Kent in 1977 with a PhD in Microbiology. He has links with academics and business people in China, the US, Singapore and southern Africa as well as continental Europe.
He says, said: 'It seems to me that Teesside has a sharp focus for what it wants to achieve in terms of being a business facing university and CLEMANCE intends to establish itself as part of that. Part of my job will be to develop international links and work has already started on that process.
High quality research 'I believe that CLEMANCE is ready to move forward onto the next platform now and we can only do that through conducting high-quality research. We need to be at the cutting edge and develop an international reputation.'
---