Teesside scores international hat trick
Teesside University has been ranked first among participating UK Higher Education Institutions for student satisfaction in a recent survey of UK international students.
More information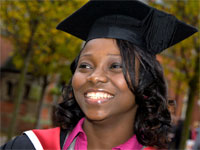 Dorcas Onyike, one of Teesside's international students.
We have achieved this result for the third consecutive time. And not only did we come top nationally in this category, Teesside is in second place among 95 globally.
The twice-yearly International Student Barometer (ISB) is the largest globally benchmarked study of international students in the world. The summer 2009 survey explored the views of students from 52 UK Higher Education Institutions (HEIs) and 95 world wide. The survey is divided into three categories: Living, Student Support and Learning, with individual attributes within each category.
Teesside University achieved the top 'Overall Average Satisfaction' scores for the three categories. In addition, the University was ranked first among the 52 UK HEI for eight attributes within the three categories. These include careers advice, technology, performance feedback and halls of residence welfare. Teesside came in fifth place in the UK for the attribute of recommending the University. The ISB is independently administered by the International Graduate Insight Group who surveyed 34,228 international students studying in the UK in summer 2009. The survey has gained feedback from over 500,000 students since its launch in 2005.
Dorcas Onyike is one of Teesside's international students. Dorcas, 24, from Nigeria, has already achieved a BA (Hons) Marketing and Public Relations degree at the University and also received the DTW prize for best overall performance on the course at her graduation.
She has returned to study for a master's degree in international management and said: 'Life is full of challenges and being at University is full of them. owever, Teesside reduced some of these challenges education wise by providing both practice and theory and of course the lecturers who do the great job of making sure this happens. A recent Teesside slogan was surprise yourself, I was indeed surprised, by the facilities and living costs and peace of mind is all one needs to study and relax.'
Our student support has again been recognised as the best in the UK Dr Keith Brown, Director of the University's Centre for International Development, added: 'This is tremendous news coming after we have attained University of the Year. We are extremely pleased that our student support has again been recognised as the best in the UK, particularly as we now have record numbers of international students studying on the campus.'
---
In the News
International students put Teesside ahead of the rest
Evening Gazette (Teesside), 12/01/2010, p.13
International students have ranked Teesside University amongst the UK's finest higher education institutions. Teesside was given first place in terms of overall average satisfaction.