BBC Four Controller shares his vision
The Controller of BBC Four, Richard Klein has visited the University to share his expertise and diverse broadcasting career with a student audience.
More information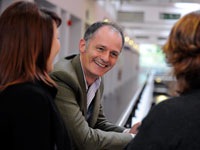 Richard Klein talks to Teesside students.
Richard was invited by the University's School of Arts & Media to meet students from the media and journalism section. He was interviewed in front of the students by Visiting Professor Tom Gutteridge, a TV Producer whose credits include working in the USA on the phenomenally successful American Idol.
Richard started his career as a reporter for a North London newspaper before moving to London Weekend Television (LWT) as a researcher. He progressed to director, where his work included LWT's Weekend World and Eye Witness. Richard also worked for several years as a freelance producer/director for a range of ITV and Channel 4 programming before joining the BBC 's current affairs department in Manchester as a long-term freelance.
After joining their staff, Richard remained with the BBC as an Executive Producer in the commissioning department, where he was responsible for the development of ideas and programme production from the independent sector in the nations and regions. He was then promoted to Head of Documentaries and finally Controller of BBC Four.
For people who are curious about the world
Richard said, 'My vision for the channel is to make it entertaining and to make it a channel for people who are curious about the world. I really like stories and storytelling and hope this is shown in the channel's output. We've made BBC Four the channel of choice for so many people. I'm most proud of us winning the BAFTA for Best Drama for The Road to Coronation Street and the critical and audience reaction to The Killing. That series made such an extraordinary noise.
'My advice to the students is to learn how to express yourself within the confines of what job you are being asked to do. Also to focus on what you like doing, what you like to do, to find work that reflects something of that. The students also shouldn't be frightened to do quite low level jobs; it will help them to understand the business as they progress. And to always remember that television is an entertainment medium, its purpose is to entertain people.'
Warren Harrison, Principal Lecturer in Media Production, said, 'It was invaluable to have a guest speaker of Richard's stature. Our students now have an insight about careers in television, how to start their careers and what to think about in relation to making television programmes, to think of their audiences like a client.'
---
In the News
BBC's Richard helps students
Evening Gazette, 31/01/2013, p.18
Teesside University students were given some top tips on starting a career in the media industry when the controller of BBC Four, Richard Klein, paid a visit.
---
TV bigwig's student visit
Evening Gazette, 28/10/2011, p.38
Teesside University's School of Arts and Media team invited BBC Four controller Richard Klein to give a talk to media and journalism students giving insight into careers in TV.
---
BBC controller shares vision with students
Love Middlesbrough (Web), 25/10/2011
Richard Klein, controller of BBC Four, visited Teesside University to share his expertise and diverse broadcasting career with a student audience. Richard was invited by the Universitys School of Arts