News releases
Animation academic draws attention to a sensitive subject
Teesside University academic Siobhan Fenton is helping to put a little talked about topic in the spotlight.
More information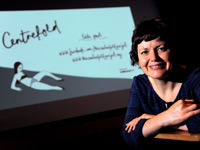 Over the past decade, female genital cosmetic surgery has increased by a staggering 500pc – and now Siobhan and award-winning filmmaker Ellie Land are turning the spotlight on why some women decide to undergo this controversial procedure.

Siobhan, senior lecturer in animation at Teesside University, is the producer of animated documentary Centrefold, which takes an innovative view of this controversial issue.

The aim of the documentary is to generate debate, as it follows three women, aged from 24 to 41, through their experiences of labiaplasty. Documenting what is involved in the procedure and its varying outcomes, the film seeks to offer a non-judgemental view of labia surgery and to encourage informed discussion.

Siobhan said: 'Ellie had the initial idea for the film and we were successful in winning a £30,000 arts award from the Wellcome Trust to produce the film to generate debate about the issue. We strove to remain faithful to the experiences of the three women – with their stories combining to create one character in the documentary.

'It's a complex issue when considering what is contributing to the growth in labiaplasty and considering what is causing it to become a cultural norm.'

She added: 'There is no definite answer as to why increasing numbers of women are undergoing this type of procedure. It's a controversial issue and as other types of cosmetic surgery gradually become the norm, it could be that the focus is moving to other, more intimate parts of the body.

'The figures that we know about could be just the tip of the iceberg, as those are NHS figures so there could be woman getting it done privately that are not known about. It is right across the age spectrum and the long-term implications are not really known. The aim of our film is to generate debate.'

Also involved in producing the animation were former Teesside University graduates Paulina Brinck, who is now based in Sweden and Seed Animation, the Soho based firm initially set up at one of Teesside University's business incubation units. Another Teesside University graduate, Sarah Tunstall, worked on the compositing, which involves combining the animation with the background.

A short commentary film has also been produced to complement and accompany the animated film, offering comment from gynaecologist Sarah Creighton and psychologist Lih-Mei Liao.

Centrefold will also be available free to download and screen as a means of encouraging informed debate. The film and documentary look at the various reasons why women undergo the procedure, examines the risks and lasting effects of the procedure and discussion about normality in women's labia and idealised images of women.

An aim of the film, which will be shown at a range of international festivals, is to encourage the audience to think about the ethical implications of female genital cosmetic surgery.

The film recently won the Best Animated Film category at the Scinema Festival of Science Film in Australia.

09 July 2012
In the News
Animated film generates debate
BBC News (Web) 24/07/2012; Huffington Post (Web) 24/07/2012
An animated film Centrefold, funded by the Wellcome Trust, features three women discussing how labiaplasty, the surgical reduction of the inner labia, has affected them. It aims to encourage debate.
---
New animation on plastic surgery
Metro Radio (Web), 12/07/2012
An academic atTeesside Univeristy is involved in a new animated film which follows three women as they go through controversial surgery.
---
Animation looking at cosmetic surgery
TFM radio, 12/07/2012; TFM (Web) 12/07/2012
Filmakers Siobhan Fenton, a lecturer at Teeside University and Ellie Land, a lecturer at Northumbria Unviersity, hope their short documentary will spark debate about female genital cosmetic surgery.
---
Siobhan highlights cosmetic surgery
Northern Echo, 10/07/2012, p.4
Siobhan Fenton, a senior lecturer in animation at Teesside University, has worked with award-winning filmmaker Ellie Land to make a film about women who have undergone genital cosmetic surgery.