Prestigious nursing title for Teesside academic
A Teesside University academic helping to shape the next generation of student nurses has been awarded a prestigious nursing title.
More information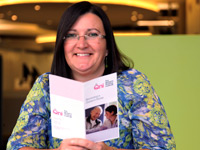 Rachel Doubleday who has been awarded the title of Queen's Nurse
Rachel Doubleday, senior lecturer in Community & Childhood Studies in the School of Health & Social Care, has been given the title of Queen's Nurse by the QNI (Queen's Nursing Institute).
The QNI grants the honorary title of Queen's Nurse to community nurses who have demonstrated a high level of commitment to patient care and to continually improving nursing practice.
There are just 250 Queen's Nurses across England, Wales and Northern Ireland. Queen's Nurses are committed to high standards of care in the community, helping them to make improvements in practice and acting as leaders and role models.
The QNI is a registered charity dedicated to improving the nursing care of people in their own homes. As well as providing nurses and nursing teams with skills and knowledge to work in the home, the QNI funds projects led by community nurses and influences policies which affect community nursing services and healthcare in the home.
Rachel, who has been a Teesside University academic since 2009, said: 'I first knew that I wanted to be a district nurse in 1990 when I spent a month on work placement as a student nurse. My passion for district nursing has remained ever since then.'
After working for over a decade in various health trusts in roles as a Community Staff Nurse and District Nursing Sister, Rachel moved into teaching to take on a vital role in helping young district nurses embark on their own careers.
She said: 'I can have a lasting and even more widespread impact on the quality of patient care with the responsibility I have for supporting the next generation of district nurses. These students will come into contact with a great number of patients, carers and their families throughout their careers and I hope some aspects of the passion I feel for district nursing will be translated into their future practice.'
As one of just a few district nurses working in teaching who have been given the title of Queen's Nurse, Rachel said: 'It's a bit daunting and it's not really sunk in yet, but I am really excited about the opportunity this will create for myself and my academic colleagues, students, mentors and colleagues out in practice, to keep them informed of issues in district nursing. Being involved in this network of community nurses and being able to tap into this source of positive energy is really valuable.'
Rachel, who is looking forward to attending a conference organised by the QNI later this year for the first time as a Queen's Nurse, said: 'I am extremely grateful to my colleagues for their support and the current cohort of student district nurses who encouraged me to apply.'
Professor Paul Keane, OBE, Dean of the School of Health & Social Care, said: 'This is wonderful news and we are delighted that Rachel has received this prestigious honour. Her enthusiasm in her teaching will continue to inspire future generations of district nurses.'
---
In the News
Prestigious Nursing Award for Teesside Academic
University News and Insight (Web), 07/09/2012
A Teesside University academic helping to shape the next generation of student nurses has been awarded a prestigious nursing title. Rachel Doubleday, senior lecturer in Community & Childhood Studies i
---
Lecturer is appointed Queen's Nurse
Northern Echo, 06/09/2012, p.43
A nurse-turned-academic has been honoured with an award. Rachel Doubleday, senior lecturer in community and childhood studies at Teesside University, was recently given the honorary title of Queen's N
---
Nursing honour for uni's Rachel
Evening Gazette, 04/09/2012, p.15; Love Middlesbrough (Web), 05/09/2012
A Teesside University academic helping to shape the next generation of student nurses has been awarded a prestigious nursing title. Rachel Doubleday, a senior lecturer in the School of Health and Soci