A new way to bone up on the skeleton
Leading forensic anthropologist Dr Tim Thompson from Teesside University is set to revolutionise the way bone identification is taught across the globe.
More information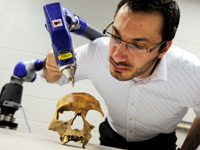 Dr Tim Thompson.
The Reader in Biological and Forensic Anthropology, has collaborated with digital experts for which Teesside University has an internationally renowned reputation.
Landslide Studios, a graduate company, has produced new software which will change the teaching of anthropology, and biology through to forensic crime scene identification forever.
Dr Thompson explains: 'Teaching skeletal anatomy is really very difficult. The bones we have are very old and fragile so they can't be handled yet they are very complex 3D shapes which students need to examine to see the fine details.
'Currently the only other alternative is plastic casts which are expensive and don't replicate the fine detail of bone – plus students can't take real bones home to study in their own time.
'By laser scanning the bones and creating this new bespoke software, it means students can view these complex 3D shapes from all angles by simply manipulating the image on screen.'
Dr Thompson is now set to trial this product at selected sites in the UK and in the USA where due to the Native American Grave Protection and Repatriation Act, universities have to repatriate remains they hold. Consequently many American students are coming to the UK to study because they simply don't have the bone material to study.
For many students the lack of being able to study actual bones means when they move out of the laboratory much of their learning by necessity takes place when they begin work. Using this software will prepare them much more efficiently whether they work in archaeology or as crime scene scientists.
Bones are laser scanned and fed into the software which can be accessed both by computer and an iPad application so students can study both in the lab and at home. Dr Thompson says this doesn't replace studying the actual bones but it is the closest you can get to the real thing.
What makes his spin out company Anthronomics' product revolutionary is the digital functionality for the user. Working with computer game developers from Landslide Studios, founded by two Teesside graduates, Dr Thompson has been able to deal with technical issues such as file size when downloading such complex models.
'This is where Teesside excels – by bringing together this need with the digital expertise we have created something which will change teaching because it is the closest thing to studying actual bones and it is easily accessible.
'Landslide Studios could come at this from a completely different angle because their background in computer gaming gave a new perspective on the issues of how to take the idea and make it accessible for a teaching environment. Teesside is a specialist melting pot in this respect.'
Dr Thompson believes it is the exceptional support from Teesside University, alongside digital excellence which has put his product in the forefront of this development. He has tapped into the University's renowned capacity for supporting business which has included access to a graduate business unit to set up Anthronomics and a DigitalCity Fellowship.
Piloting the software will be forensic anthropologist Dr Steven Symes who has applied his expertise in bone trauma analysis to human rights investigations in El Salvador, Peru, Guatemala, Argentina, Indonesia, Chile and Mexico. There he has examined the remains of hundreds of human rights casualties, doing his part to identify the victims and uncover evidence of war crimes.
The software will also be piloted in the UK in Durham University where the archaeology department is the best in the country and Sheffield University – and at Teesside University which this year celebrates 20 years of teaching forensic science and can boast a graduate in virtually every police force in the UK, as well as every forensic science provider.
---
In the News
Teesside University academic is poised to launch spin-out company
BQ (Business Quarter North East), 04/01/2013, p.24
Teesside University Dr Tim Thompson is accustomed to sharing his forensics knowledge and expertise with the police, from dealing with a recent crime to archaeological remains. Now with a grant from Te
---
Uni expert leading the way
Evening Gazette, 21/01/2013, p.9
A leading Teesside University forensic anthropologist is set to revolutionise the way bone identification is taught across the globe. Dr Tim Thompson has collaborated with digital experts Landslide St
---
Science faces a shortage of skeletons
The Week, 19/01/2013, p.19
Science faces a shortage of skeletons It is estimated that 100 billion people have lived and died -yet scientists are short of bones, says The Independent. Owing to social taboos and strict laws gover
---
Forensic scientists need skeletons to train - but they're down to bare bones
The Independent, 05/01/2013, p.18; The Independent (Web), 04/01/2013
Considering scientists estimate that the number of people who have lived - and died - now comfortably exceeds 100 billion individuals, it would seem fair to assume that there was no shortage of one of