Ambitious plans detailed at launch of Searchcamp
Ambitious plans to make Middlesbrough the startup capital of the country have been unveiled at the launch of a unique incubator programme for new digital businesses.
More information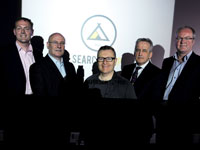 – From left - Andy Preston (Searchcamp co-founder), Stephen Lusty (Searchcamp director), Bobby Paterson (Programme Director), Professor Cliff Hardcastle, Alastair Waite (Searchcamp co-founder)
Dozens of business and community leaders attended the launch of Searchcamp at Teesside University this week where the details for the 12 week immersive accelerator programme were announced.
A total of 84 startups from 14 different countries applied to join Searchcamp.
The Searchcamp board is in the process of shortlisting the entries and the successful 10 startups will be given up to £15,000 each of seed funding.
They will live and work on Teesside University's campus while they develop their product or service using 'lean startup' principles.
Throughout the 12 week programme they will be advised and mentored by a range of internationally-renowned business men and women – some of whom were announced at the launch event.
Kate Rutter, the co-founder and principal of San Francisco-based entrepreneurial consultancy firm Luxr, will be the curriculum partner and will also visit Searchcamp to advise the participants.
Stephen Lusty, the former European director of operations for Google, has also joined the board of directors of Searchcamp.
Other mentors will be travelling from as far afield as London, Singapore and New York to take part in Searchcamp.
Bobby Paterson, Searchcamp Programme Director, told attendees at the launch: 'We've got an amazing facility here and some fantastic mentors. 'There's a real speed and momentum being generated and things that would normally take weeks or months in the normal business world we'll see being developed in minutes and hours with this accelerator programme.'
At the end of the 12 weeks, the businesses will be invited to move into the incubator at Boho 4 building in Middlesbrough, which will be known as Searchcampus.
Professor Cliff Hardcastle, Teesside University's Deputy Vice Chancellor (Research and Business Engagement), said Searchcamp echoed the entrepreneurial spirit upon which Middlesbrough was founded.
He added: 'We're absolutely delighted to be a part of this initiative. "This is exactly the sort of spirit of enterprise we try to engender in our graduates.
'What makes this unique is not just the close-knit bond between the University and business but also the one between the University and North-East entrepreneurs.'
Teesside University has a long history of working with graduate startups and has helped to create more than 300 new businesses. The University has invested in Searchcamp and will be a partner in the programme.
Entrepreneur and co-founder of Searchcamp, Andy Preston said: 'This project is already huge fun to be a part of and it's also going to do a huge amount of good.'
Entrepreneur and co-founder, Alastair Waite, added: 'Sometimes in business it can be easy to find detractors and it can be very difficult to find those that support you.
'We've got some excellent people on board with some really good experience.'
---
In the News
Startups pitch at Teesside
The Journal (Newcastle Upon Tyne), 26/08/2013, p.26
Searchcamp is a partnership between Teesside University and some of the North East's leading entrepreneurs.
---
Middlesbrough digital startup scheme unveiled
NEBusiness.co.uk (Web), 13/05/2013
Business and community leaders attended the launch of Searchcamp at Teesside University, where details for a 12-week immersive accelerator programme were announced, attracting applications from 84 sta