Aimee's Tees pride in World Championships
Teesside swimmer Aimee Willmott said she was proud to have represented Teesside as well as Great Britain in the World Championships in Barcelona.
More information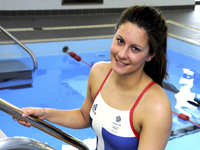 Aimee Willmott, current student and member of the elite athlete scheme.
Aimee narrowly missed out on reaching Sunday's night's final of the 400m individual medley (IM) when finishing third in her heat and ninth overall with a morning time of 4' 38.48.
Aimee, who swims for Middlesbrough Amateur Swimming Club and studies at Teesside University, said: 'I'm gutted to have missed out so narrowly - I was so close.
'I felt comfortable to start with but I tired towards the end and those crucial seconds were the difference.
'It was my second best time in the 400 metres and my best time this season so it was pleasing from that point of view - but to finish ninth was probably the worst possible result, to be so close but miss out is not a nice feeling.
'But I'm proud to have reached the Championships and proud to be out here representing Teesside - hopefully I can go one better next year.'
Having been disqualified in the heats of the trials two years ago, the 20-year-old was delighted to part in her first World Championships.
London Olympian Aimee, who has been a member of Middlesbrough Amateur Swimming Club (MASC) since the age of eight, added: 'If everything goes to plan over the next couple of years I can drop a few seconds off my best time and then, who knows? The next step would be a medal at next year's Commonwealth Games in Glasgow and then onwards to the 2016 Olympics.'
Aimee, who is coached by MASC director of swimming Lisa Bates, said a massive team effort helped her qualify for the World Championships despite training on Teesside, away from most of the Loughborough-based Great Britain squad.
She trains twice a day at Middlesbrough Council's Neptune Centre with fellow MASC members, while she carries out specialist strength and conditioning work in the hi-tech gymnasium at Teesside University, where she is part of their elite athlete scheme and is studying for a BSc (Hons) Sport and Exercise (Coaching Science).
The elite athlete scheme offers a comprehensive support package including physiotherapy, sport psychology and sports science support to athletes of international calibre.
Aimee is also grateful for the support she receives from Studio 21 in Yarm, where she takes regular pilates sessions.
She said: 'I couldn't do what I do without all the help and support I get from MASC, Middlesbrough Council, Teesside University, Studio 21 and many others, including my friends and family. It's a team effort.'
---
In the News
Aimee's Tees pride in World Championships
FansOnline.net (Web), 05/08/2013
Teesside University student Aimee Willmott said she was proud to have represented Teesside as well as Great Britain in the World Championships in Barcelona. Aimee narrowly missed out on reaching Sunda