Margaret returned to study to complement her career
Margaret Norman, who graduates from the MSc Nursing (Advanced Nurse Practitioner), decided to return to education to complement her career.
More information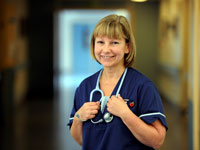 The Specialist Nurse in Perioperative Care is the Co-ordinator of Orthopaedic Pre-admission services at The James Cook University Hospital, Northallerton's Friarage Hospital and Redcar Primary Care.
Margaret, of Ingleby Barwick, said: 'It was difficult working full-time and juggling study, especially as the course structure meant we were required to do a lot of work in our own time. I wanted to do the course for my own personal sense of achievement and also to continue my development as a practitioner. 'I really enjoyed the course as it has developed my clinical skills,' added Margaret, who is now teaching BSc and MSc students as a guest lecturer in the University's School of Health & Social Care.
Margaret, who studied as a mature student and is mum to 23-year-old Stuart who is studying towards a Business and Economics degree in Manchester, added: "I qualified as a nurse when I was 21, with the SRN qualification (State Registered Nurse). Studying at this advanced level ensures my skills remain relevant and current enabling me to deliver evidence-based practice.
'There is support from the academic staff, but I would say students also need to form their own support network. This is particularly important for mature students who are not always regularly involved in campus life.'
Margaret said encouragement from two other students in the cohort, Tara Ashley and Jane Carr, proved vital, adding: 'We were all in the same position, working full-time, running a home and completing the course.
'At various times we all felt the pressure, but it was the support of the other two which helped to encourage the one to keep going. We became a great team and it was this comradeship in the face of a shared challenge that got us all through.'
Margaret, who was awarded the University prize for Best Student on the MSc Nursing Programmes, added: 'I would encourage anyone thinking about returning to study to just go for it, as it is a case of putting the time and the work in, in order to see results.'
---