News
Teesside students going for gold at the Gold Coast
Two of the stars of Teesside University's elite athlete scheme have been called up to represent their country at the 2018 Commonwealth Games in Australia.
More information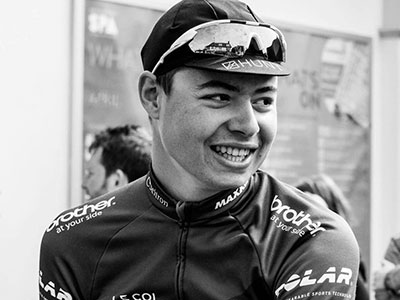 Jade Jones, a final-year law student, will be competing in the triathlon and marathon, while Harry Tanfield, who is studying towards a master's in civil and structural engineering, will be competing in the cycling road race and time trial.

The pair are no strangers to high profile sporting events – Jade is a two-time Paralympian and has previously competed at the Commonwealth Games and European Championships, while Harry rides for professional cycling team Canyon Eisberg and has competed in the Tour de Yorkshire and British National Circuit Race Series.

On being selected, Harry said: 'It will be great to represent my country, I have never done that before. It will be completely different at senior level.

'I went to Australia in 2015 for a training camp with JLT Condor. Hopefully it won't be quite as warm as it was when I was there last. I remember doing some crits in 42 degrees in a black skinsuit – it felt like I was melting.'

Jade was first encouraged to take up wheelchair racing by 11 times Paralympic gold medallist Tanni Grey-Thompson. She is trained by Baroness Grey-Thompson's husband, Ian Thompson.

Jade said: 'I'm really excited to compete at my second Commonwealth Games, this time in both the triathlon and the marathon which is going to be a huge change.

'My preparation has been going well and I'm stronger than I have ever been, so I'm excited to head out to the Gold Coast in a couple of weeks.'

Both Jade and Harry are members of the University's elite athlete scheme which provides access to state-of-the-art equipment and expertise to athletes at international level or with exceptional international potential.

The scheme provides a comprehensive support package which is individually tailored to meet the needs of each person.

Athletes can access academic and sports science support such as physiological and biomechanical assessment, monitoring of training loads, strength and conditioning, physiotherapy and sports psychology support.

Matthew Wright, Sports Development Officer for elite sport at Teesside University, said: 'We are thrilled and extremely proud to learn that Jade and Harry have been selected to join the Great Britain Commonwealth Games squad.

'It is testament to their hard work and dedication and we wish them both well for the Games.'

The Commonwealth Games take place from 4 April until 15 April 2018.

07 March 2018
In the News
Teesside students going for gold at the Gold Coast
Love Middlesbrough, online, 08/03/2018, North East Chamber of Commerce, online, 08/03/2018
Two Teesside University students, Jade Jones and Harry Tanfield, are travelling to the Gold Coast to compete for their country in the 2018 Commonwealth Games.