Passion for fashion leads student Harry to turn entrepreneur
Fashion student Harry Tribe is using his design skills to turn entrepreneur with the launch of his own clothing brand.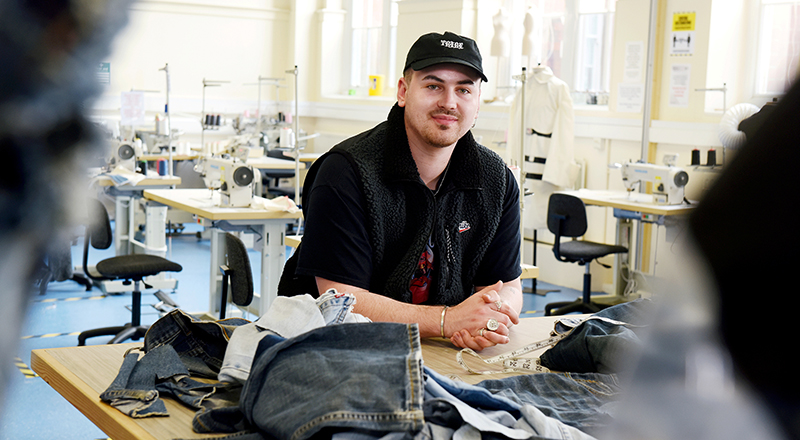 Harry, a first year BA (Hons) Fashion and Textiles student in Teesside University's MIMA School of Art & Design, has launched Tribe Street Market, a new business upcycling old denim clothing.
Harry, 22, from Middlesbrough, initially set up his brand selling printed T-shirts, hoodies and headwear but since starting the degree, he has been able to branch out and create denim garments using recycled materials.
He said: "Working on the degree has given me the opportunity to start creating garments using upcycled denim. The inspiration for my brand has come from many different places.
"One of the biggest influences for the brand during its start-up has been '90s skate culture, style and attitude."
He added: "I created my brand as I was never really satisfied with a lot of clothing already available out there, as I could never really find what I was looking for. I am currently making an upcycled denim jacket and jeans outfit inspired by the coast."
Harry added: "I hope my degree will help to catapult me into the fashion industry, working on my own clothing brand and eventually having a very successful label. Even though I have less free time on my hands since starting my degree, I have felt a lot more inspired to work on my side projects and my clothing brand.
"Before starting this course I had no fashion background and had never even used a sewing machine. With help from the module leaders, combined with my willingness to learn, I managed to create an entire outfit from scratch, which was very rewarding for me.
Working on the degree has given me the opportunity to start creating garments using upcycled denim
"Having no experience in fashion education before this course, I often doubted myself and my work. I have since learned that the most important tool to work with is confidence and the willingness to make mistakes.
"The best thing about studying at MIMA School of Art & Design is the huge range of specialist equipment on offer for students to use, not only for their studies but for other projects too. I often use the screen printing and heat press facilities in the print textile room while working on my own clothing brand.
"I chose to study at MIMA School of Art & Design as I live local and wanted to have access to the excellent range of facilities at all times. The degree so far has been fun. The different modules, especially the design modules, are always very fun and exciting to complete when you have a love for the subject.
"The modules are very loose, which enables us to fully bring out our creative side and make each module your own. The module leaders are often industry veterans with a wealth of personal experience and knowledge ready to pass on to students. Our study sessions are always very upbeat and engaging, which makes for a very enjoyable student experience."
Harry said he is also grateful for the support shown by his tutors, adding: "The tutors are very supportive. They will often push you out of your comfort zone to allow you to grow further."
---