Srija draws inspiration from stories for international project
A creative Teesside University student has designed illustrations for a British Council project to create an anthology of stories around gender and mental health.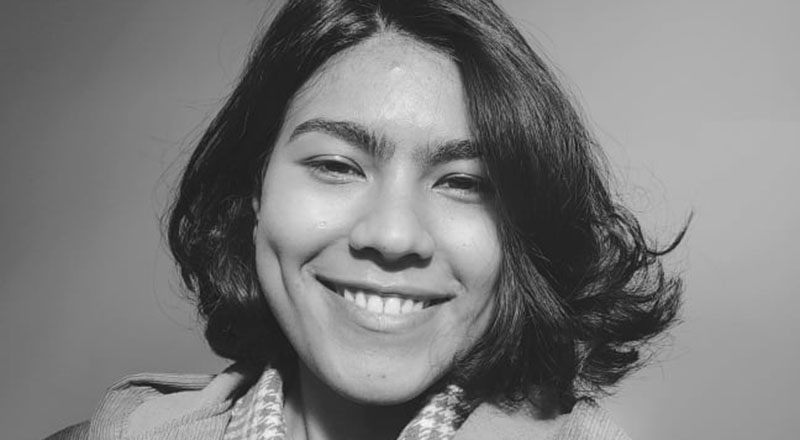 Srija Shrestha, 24, who is originally from Kathmandu in Nepal, is completing the MA Illustration at the University's MIMA School of Art & Design.
She created illustrations for the British Council for use in short fiction anthology In Our Own Words, comprising stories written by young authors aged from 10 to 18 on the themes of gender and mental health. Srija was one of 20 Nepali illustrators invited to work on the project.
Srija said: "The anthology was initiated by the British Council in partnership with Room to Read Nepal and UNICEF Nepal. Children's book author Anuradha and women-led artists group Virangana Comics Collective contributed to the programme as creative partners."
The project involved 20 young aspiring authors writing individual short stories on the themes of gender and mental health, with each of their stories illustrated by one of 20 Nepali illustrators chosen to take part following publicity on social media.
Srija said: "In order to apply for this project, artists had to present a short portfolio and complete an application to explain why we wanted to be a part of this project and why it is meaningful to us."
Each artist was designated a story and asked to work on creating story boards and character designs, with online feedback and mentorship sessions held with Virangana Comics.
Srija said: "The inspiration for my illustrations came from the story I received which was Ideal Daughter, written by Samiksha Jha, a tenth grader who lives in Birgunj, Parsa in Nepal.
"The story is about a little girl from a rural village in Nepal who goes through a journey full of struggles to pursue her dream of studying and becoming a lecturer. The girl then returns to the village to help other girls access quality education and help them to become financially independent. The girl becomes a role model for many girls in the village.
I am extremely joyful to see my illustrations published
"The character for this story is inspired by young girls from rural Nepal and the setting is also inspired by the environment in the villages of Nepal. I wanted to bring a feel of positivity and freedom by the end of the story, that's what inspired me to use bright colours."
Srija added: "I am extremely joyful to see my illustrations published. I am also really grateful to have been able to illustrate such an amazing story written by a bright young girl. I feel happy that my illustrations have given life to such a beautiful story. I feel proud to be a part of this project alongside so many talented illustrators from Nepal."
Srija, who chose to study at Teesside University after researching postgraduate art courses, said: "I would like to continue working as artist and illustrator, mainly focusing on comics and cartoons. I aim to develop various short comic books in English as well as my native language, Nepali.
"Another aim is to collaborate with artists from around the world and create small but meaningful collective impact through art projects, especially in the area of art education."
The books, which have been launched online in English, will be released in Nepali this month. Printed copies of the two anthologies will be made use as educational resources for projects run by Room to Read, UNICEF and the British Council.
The contents of the books will also be showcased as part of the young feminist corner during the upcoming Women of the World Festival in Nepal.
---