Odyssey Systems and Teesside University combine to support region's graduates
Odyssey Systems has strengthened its ties with education and made a particular commitment to providing opportunities for graduates after securing a partnership with Teesside University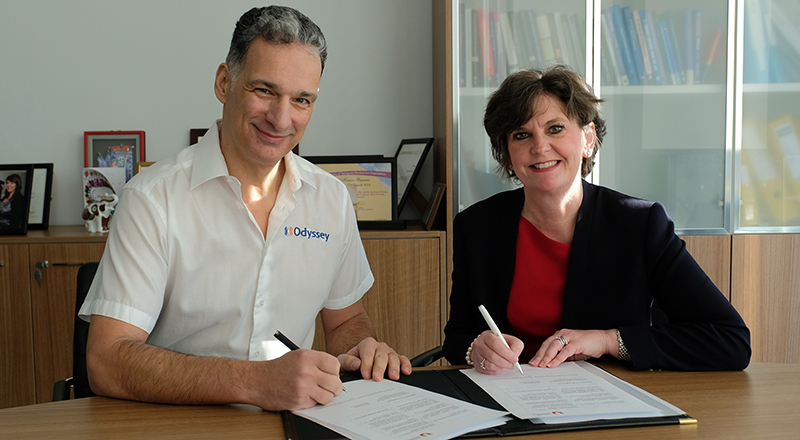 As part of a recently-signed Memorandum of Understanding, the Stockton-based telecommunications firm wishes to work with the University to access graduate talent, offering placements and internships, with a view to full-time employment.
The partnership will see Odyssey Systems offer its facilities for industry-related events and enable staff exchange opportunities with the university.
Odyssey will also support current students at Teesside University by offering training, sharing its resources and providing access to expertise, thus supporting their studies.
The Memorandum of Understanding ensures access to the University's knowledge exchange interventions, which include utilising academic expertise and leading research. The first project will involve academics from the School of Computing & Digital Technologies supporting Odyssey Systems as the company seeks to enhance its cybersecurity requirements. It will also support ongoing recruitment events, help identify student and graduate talent, as well as offer its facilities for industry-related events and explore potential staff exchange opportunities with the university.
Established in 1987, Odyssey Systems is an award-winning company and leading supplier of hosted telephony, cloud services and high-speed connectivity solutions to more than 2,500 customers in the UK.
Christine Gilbert, Director of Odyssey Systems, said: 'This is an exciting partnership which offers our industry insight and expertise to a range of young individuals looking to gain employment.
'Teesside University has grown to become one of our region's thriving institutions, and we are delighted to be supporting it in a variety of ways, including offering support and guidance to its recruitment team and helping people into employment after they've graduated, as well as providing valuable work experience.
'We are great advocates of providing opportunities for graduates and students, with many members of our workforce coming from university backgrounds, some of whom are graduates of Teesside University. We look forward to developing our relationship with Teesside University and supporting its extensive talent pool of students and graduates of the University.'
Pro Vice-Chancellor (Enterprise and Business Engagement) Professor Jane Turner OBE DL said: 'Odyssey Systems is a fantastic example of a business keen to constantly innovate and change for the benefit of its clients. We are keen to engage with businesses that nurture graduate talent and Odyssey Systems clearly value their most valuable asset, their people. We are therefore delighted to formalise our relationship with this Memorandum of Understanding.'
---
In the News
Odyssey Systems and Teesside University combine to support regions graduates
Business Up North, online, 12/03/2019, Entirely Tech, online, 12/03/2019
Odyssey Systems has strengthened its ties with education and made a particular commitment providing opportunities for graduates after securing a partnership with Teesside University.