Teesside academic helping people to understand persistent pain
A Teesside University academic on a national mission to help change the way people understand persistent pain was recently called on to share his expertise at a major fundraising festival.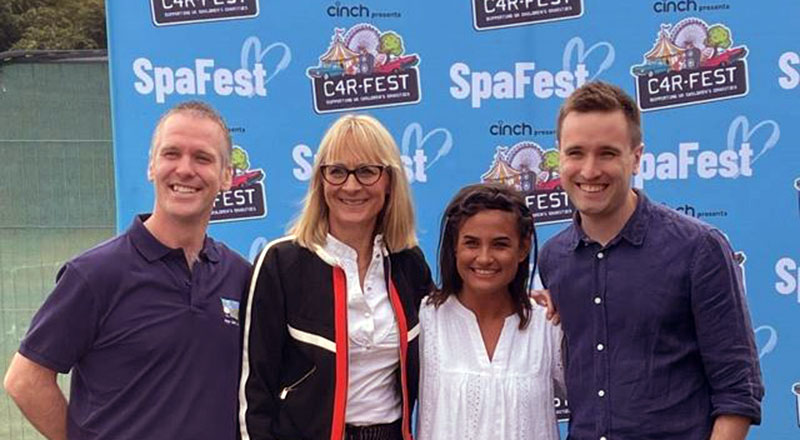 Professor Cormac Ryan, Professor of Clinical Rehabilitation in the University's School of Health & Life Sciences, was invited to speak at SpaFest, which is part of the UK's largest annual fundraising festival CarFest North.
CarFest North raises money for UK children's charities, combining seven festival elements for a family audiences, celebrating the best in music, cars and food.
Professor Ryan is a community pain champion for the Flippin Pain campaign which aims to change how people think about, talk about and treat persistent pain.
As part of that national campaign work, he was invited to speak at the SpaFest element of CarFest North, held in Chester. SpaFest is dedicated to health and wellbeing and includes talks and workshops on a variety of topics from persistent pain to diet, stretching, yoga, and everything in between.
Professor Ryan was presenting alongside Dr Monty Lyman, who wrote best-selling The Painful Truth. They were both also interviewed at the event by former BBC Breakfast host Louise Minchin.
He said: "I was invited to speak at the event by Dr Lyman, through my role as community pain champion for national public health campaign Flippin' Pain, run by Connect Health in association with Teesside University.
The campaign seeks to help people to better understand persistent pain by busting common myths.
"The campaign seeks to help people to better understand persistent pain by busting common myths which exist within the public consciousness."
Professor Ryan, whose research looks at the impact of chronic pain on patients and interventions to manage the condition, added: "The way that people understand their pain can impact the way it feels to them and how they respond to it. Chronic pain is extremely complex. A person may suffer debilitating pain, while displaying no obvious physical indicators and vice versa."
He added: "Understanding more about their persistent pain can be transformative and help an individual on those first steps towards recovery. Recovery too is extremely individual and can mean different things to different people.
"It can mean a reduction in pain, but it is more about helping people to regain control of their lives and improve their quality of life. For some It can mean a reduction in their pain, for others it can be getting back to work despite their pain, for others it can just be about feeling better in yourself despite the pain."
---