Music technology studies culminate on a high note for Matty
Matty Innocent decided to switch direction and return to education to pursue his dream of establishing a career in music.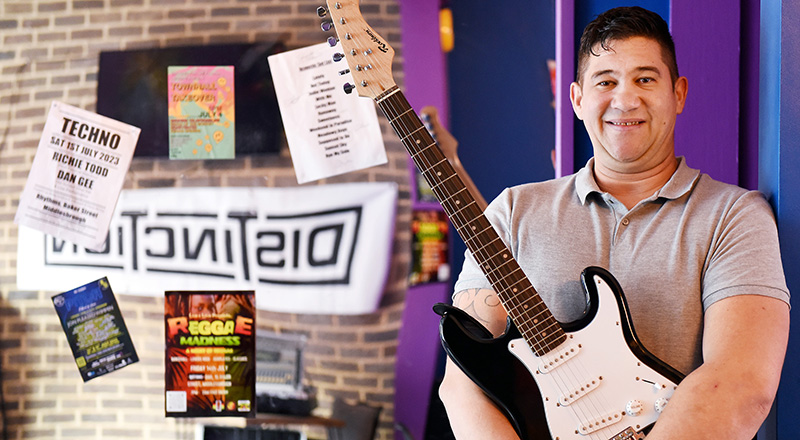 The BSc (Hons) Music Technology graduate recently launched Rhythms Music Bar on Middlesbrough's Baker Street as a music venue and hub for local musicians, with Rhythms acting as an 'umbrella' for his various projects. He is also behind Distinction Events Management, while working as a freelance DJ, music producer and events promoter.
Matty will join thousands of graduates celebrating success at Teesside University's annual academic awards ceremonies, taking place this week (July 17 to 21).
Although Matty has had a lifelong passion for music, he spent much of his working life in the construction industry, most recently as a site manager for a major building firm.
Matty said: "I've been interested in music since childhood but had always felt the need to balance my passion for music with being able to support my family. My job in construction was my comfort zone.
"Although I had I spent over two decades developing my skills on the local music scene, it took me until the age of 38 to decide that I needed to pursue my passion for music full-time. It was a real leap of faith.
"I left my job and enrolled on the degree with encouragement from my partner Tracy. The course content was exactly what I was looking for.
"The degree helped me to develop my skills and knowledge, and I've gained new perspectives into the music industry and the array of careers which are available. The degree has transformed me from someone with little confidence in my ability, to a head-strong individual with a vast and ever-growing knowledge base."
The course content was exactly what I was looking for
Matty, who recently opened Rhythms with his partner Tracy, said: "Rhythms is part of an overall ongoing project to help grassroots musicians in the area to achieve more."
He is also sharing his love of music to inspire others through his involvement with Musinc, which provides opportunities for musical engagement and learning for people of all ages and abilities. Matty is with Musinc as a music leader, working with 16 to 25-year-olds to help them feel connected through music events and workshops.
Matty, who now aims to work towards a PGCE teaching qualification, added: "While I was a student, I chaired the University's music society, which involved inviting like-minded individuals to come and have fun with music, socialise and feel part of a group.
"I enjoyed every aspect of my time at Teesside University. Everything you need is on campus. The facilities are great and there is a good support network. The course tutors were excellent and always supportive.
"My advice to anyone thinking of studying at Teesside University is to volunteer for opportunities, get involved in societies and utilise the facilities as much as possible."
---