Teesside University student flying the flag for Gibraltar
A sporting student who came to study at Teesside from Gibraltar is making an impact on the world stage having been selected to represent his home country's football team.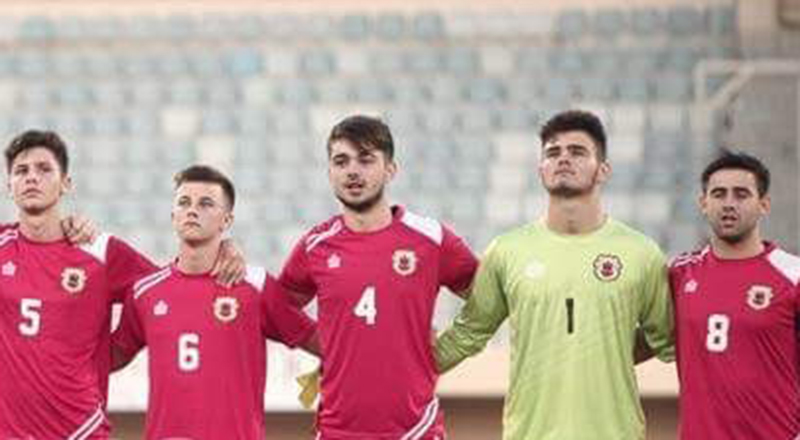 Richie Parral, 19, plays as either a centre back or a defensive midfielder and has travelled the world to represent his beloved Gibraltar.
The 19-year-old is in the second year of his BA (Hons) English Studies at Teesside and is relishing the challenge of balancing his academic work with his international football commitments.
Richie, who has been passionate about football ever since he can remember, has represented Gibraltar at under 17 and under 19 level and is currently in the squad for the under 21's. He has played against the likes of Russia, Greece, Germany and Croatia, coming up against players such as Felix Passlack of Borussia Dortmund and Conor Matterson of Liverpool.
The Gibraltar senior team is currently playing in the UEFA Nations League qualifying round and Richie said: 'We are progressing well and are growing in confidence. We always seem to punch above our weight and I am sure within the next few years we shall start seeing a gradual improvement in results.'
Describing the feeling of playing for Gibraltar, he added: 'It is a fantastic feeling to play for my country and the next step is to push for a place in the senior team.
'I still have ambitions to make it as a professional footballer, but I know how important it is to have other options which is why I decided to study at Teesside University.'
Teesside is a really modern university and there has been a lot of investment in the campus.
Richie previously had trials at West Ham and was offered a scholarship at the FCV Academy, which he had to turn down due to other commitments. Recently, he was playing for Darlington Reserves and this season, as well as playing for the national team, Richie is also representing the University in the BUCS league and is really enjoying his time studying at Teesside.
'I am used to travelling with the national team and always wanted to study abroad," explained Richie.
'I was attracted to Teesside University because of the course and the quality of the lecturers. It has been a really positive experience so far – Teesside is a really modern university and there has been a lot of investment in the campus.
'It was certainly the right decision to come here and I am just aiming to continue to do well in my studies and keep pushing myself with my football. I am quite self-disciplined and have to find the time to train and keep fit, as well as attend lectures and fit in all my university work.
'The University is extremely supportive though and has encouraged me every step of the way. My family is also really supportive and I hope to make Gibraltar proud in the future and keep the flag flying high.'
---