University expertise helps young cystic fibrosis sufferers
Teesside University has helped a specialist medical equipment company develop a new product which will assist children suffering from Cystic Fibrosis.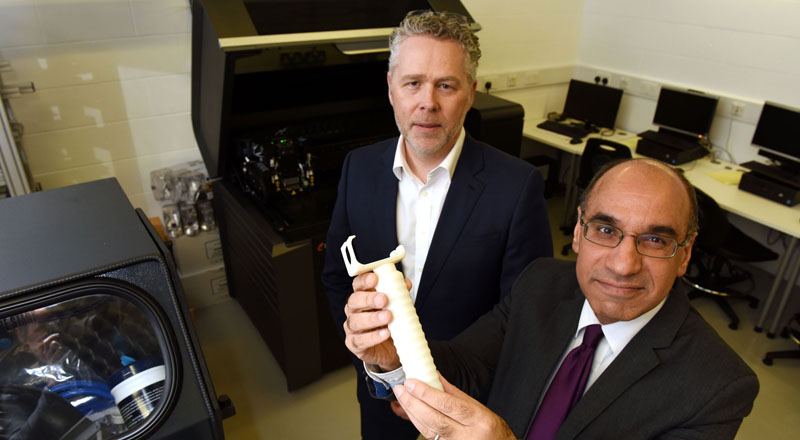 The University has used its 3D printing expertise to enable Niche Medical Ltd to produce a prototype for a device which will enable young Cystic Fibrosis sufferers to administer their drugs more easily.
The product in development is a specialised handle which attaches to a nebuliser used to inhale drugs directly into the lungs.
The handle makes it easier for the youngsters to use the nebuliser themselves reducing the burden of parental supervision.
Niche specialises in the development, manufacturing and marketing of medical products.
It licensed the design of the product from South Tees Hospitals NHS Foundation Trust with the aim of using the expertise of the company's two founders to bring it to market.
Founded by clinician Professor Andrew Owens and Jake Tompkins, Managing Director of Modus Seabed Intervention Ltd, the company exploits Jake's expertise in business, engineering and disruptive innovation combined with Andrew's medical knowledge and research insights.
Niche wanted to re-evaluate the new design with end users, clarifying important aspects of usability such as the ability for it to be cleaned effectively to avoid contamination.
Professor Owens said: 'The 3D printing support from Teesside University was an ideal method to obtain suitable prototypes for a number of reasons.
'The high resolution enabled an accurate rendition of the final moulded product that has highlighted the need for subtle design modifications to eliminate potential moisture-retaining cavities.
'The ability to print with a compound that has similar physical characteristics to polypropylene was also important as this enables the prototypes to have the same flexibility as the proposed final product and therefore a full assessment of the functionality of the end design.'
The 3D printed prototypes are currently undergoing end-user assessment and feedback. On the basis of this, the mould design will be finalised and the product launched in partnership with the NHS.
Professor Zulf Ali, Dean of Teesside University's Graduate Research School, said: 'People with cystic fibrosis often have to undergo a rigorous daily regime of treatments to stay healthy.
'Anything that can make things easier for young people suffering from the disease will have a major impact on quality of life for both them and their carers.
'We are delighted to have been able to help Niche develop this product and look forward to seeing it released onto the market.'
---
For more information about how Teesside University can help your business click here.