Beth on course for sporting success
Beth Mead combined study with sport during her time at Teesside, scoring accolades at the FA Women's Football Awards while completing her degree.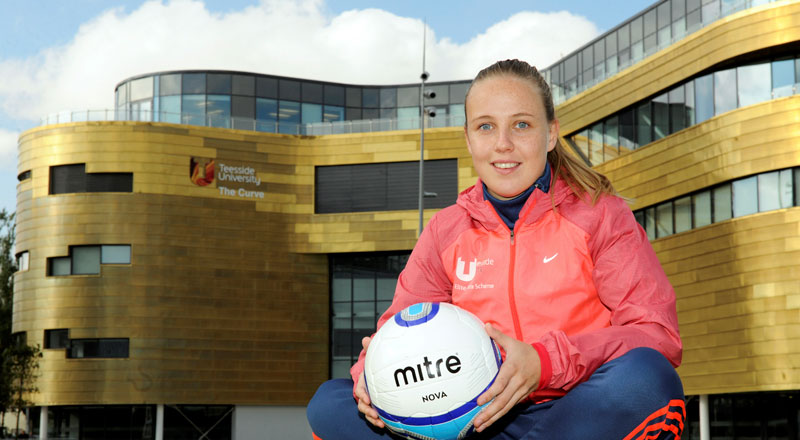 Beth, 21, is a now a professional footballer with Sunderland AFC and the senior England squad, graduates from the BA (Hons) Sports Development.
Originally from Hinderwell in North Yorkshire, Beth said: 'My decision to come to Teesside was easy as I'd heard a lot of good things about the University.
'I knew it had amazing sport facilities, as I had used them in the past and the degree I wanted to do suited me perfectly.
'An older cousin of mine who has studied at Teesside told me the sport courses were brilliant and I had heard about the Elite Athlete scheme, which I knew if I could be involved in would help me to develop as a football player.
'I received lots of support from the University's Sports Development Officer Matt Wright, who helped me to become the athlete I am today.
'It has been tough and hard work juggling study with a full-time football career, but the University was amazing and supported me every step of the way, which made it that little bit easier.
'My course tutor Stuart Braye was top notch and I owe a lot to him for his continued support and understanding of my footballing lifestyle.'
Beth added: 'I could link all of the degree modules to my football career, which helped me to understand them more.
'I am lucky enough to have started my professional career before graduating from University and I will be playing football for as long as I can, and then will see where the future takes me after that. Having this degree always leaves a door open for me to choose a new career path when my footballing career is over.
'I'd also like to thank my dissertation supervisor Kevin Dixon, as without his support, encouragement and help I'm not sure I would have completed it. I owe a lot to the Teesside University and staff and students who have all offered support.'
During her time at Teesside University, Beth was called up to play for the senior England squad and was named Vauxhall England Young Player of the Year and FA Women's Super League 1 Players' Player of the Year.
---