Nursing students share their expertise during Cambodia trip
Teesside University nursing students have returned from an emotional trip to South East Asia where they witnessed healthcare professionals at work in Cambodia.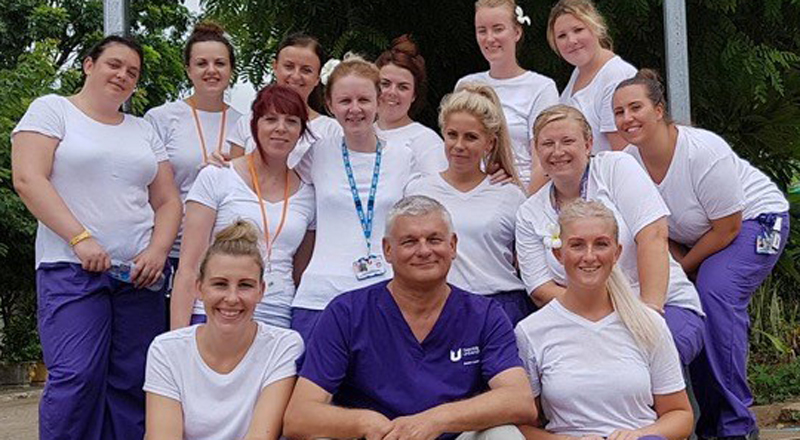 The students travelled with the Transform Healthcare Cambodia charity to support medical staff in the Battambang Referral Hospital.
Graham Jones, director with the charity and Senior Lecturer in Nursing Skills at Teesside University, said: 'We took our first group of students to Cambodia last year and after the success of that first trip, we had students queueing up for the opportunity to join the trip this year. The students fully fund the trip independently, many of them through fundraising.'
Two nursing students who took part in the trip, Charlotte Govier and Claire Wilding, described trip as an emotional ten days working with medical staff in the hospital. They also met Cambodia students training for a career in nursing.
Charlotte, 25, from Eaglescliffe, said: 'It was an amazing experience. I learned so much about the country and appreciate how far they have come, but also how far they have to go compared to the healthcare provided in the UK.
'Care of patients was very family orientated, there are lots of things we can learn from that. The visit touched me personally as well as affecting me as a student. When I came home, I realised we have everything and we sometimes take that for granted.'
Claire, 32, from Hartlepool, said: 'I found the trip really hard initially and for the first few days I just cried when I saw how poor the hospital was. The patients were so grateful that you were just there.
It was a fantastic experience for me, not only as a student nurse but more as person
'It was a fantastic experience for me, not only as a student nurse but more as person. I now appreciate everything, even tiny things we usually take for granted. People can see a massive change in me.'
Claire and Charlotte have both since gone on to complete a placement together in the intensive care unit at the University Hospital of North Tees in Stockton.
Graham added: 'For many of the students, this was the first time they'd travelled such a distance and worked in an environment so different from the UK health system. It was as much about learning from our Cambodian colleagues as it was about sharing the skills they have learned. 'I was extremely proud with the way the students conducted themselves during the visit. They did themselves, the charity and the University proud. Visits like this enrich the experience of nurse training and help students appreciate different practices and cultures.'
Find out more about the Transform Healthcare Cambodia charity.
---