First VentureFest Tees Valley hailed a success
Tees Valley's first edition of the national innovation event VentureFest has been hailed a huge success.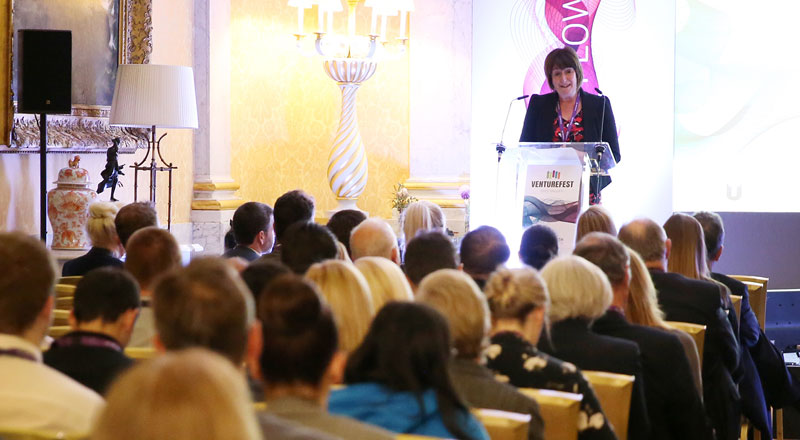 VentureFest Tees Valley was held on Wednesday 13 September at Wynyard Hall, welcoming hundreds of local businesses, entrepreneurs, innovators, investors and experts for a day dedicated to further strengthening the regional economy through innovation. Practical workshops, lively discussions, inspiring exhibitions, networking and expert advice sessions provided a unique opportunity to share ideas and make valuable new connections. A total of 180 one-to-one meetings were also organised between investors and companies looking to raise cash.
Keynote speakers focused on highlighting current innovation successes in the Tees Valley, as well as new opportunities for businesses in the area to grow, become more profitable and generate new jobs.
Speakers included: Matthew Burke of Williams Advanced Engineering, Professor Andrew Owens of South Tees Hospitals NHS Foundation Trust, Ross Burton of the Knowledge Transfer Network, Tees Valley Mayor Ben Houchen, Joanne Whitfield of FW Capital, Laura Woods of Teesside University and Richard Lane of durhamlane.
Simon Green, Director at VentureFest Tees Valley, said: 'VentureFest is all about bringing together people who wouldn't normally get the opportunity to meet to share ideas and learning. By connecting different sectors of the business community in this way we are creating a fertile environment where new innovations and collaborations can be explored.
'Tees Valley businesses have really embraced the concept and seized the opportunity to get involved and we look forward to hearing about the results of the many conversations that started here today."
A dozen innovative companies from across the Tees Valley were selected to take part in an Innovation Showcase exhibition where they demonstrated their bright ideas.
Peter Lillie, Commercial Director at GRN, was among them – showcasing the Middlesbrough company's sportswear made from recycled plastic bottles and fishing nets. He said: 'It's been an incredibly useful event. There has been a wide range of entrepreneurs, new companies and more established businesses spreading the word about what they do and what's going on in the region.
Not only have we heard inspirational stories from companies who are already embracing new opportunities presented by Innovate Tees Valley, but we've also met many new businesses we can help to grow through innovation
'I've had some really good conversations with a huge spread of organisations in the space of a few hours. We've covered everything from university facilities and council support to investment from finance houses. It's been a day very well spent.'
Tees Valley's addition to the VentureFest calendar of UK events followed last year's successful trial event Innovate Tees Valley Festival, which attracted 260 delegates to the Riverside Stadium, Middlesbrough, and showcased the wealth of innovation taking place in the area.
Tees Valley Mayor Ben Houchen said: 'It has been a privilege to have the opportunity to welcome VentureFest to the Tees Valley. Innovation is something this region is very good at and to bring hundreds of businesses, innovators and entrepreneurs together to network, share experiences and ideas and do business is vitally important.
'Being a part of VentureFest will strengthen the Tees Valley's reputation as an innovative place to live, work, visit and invest, bringing with it lasting benefits to the economy.'
Laura Woods, Director of The Forge, Teesside University's business hub, said: 'Innovate Tees Valley, a major programme of expert support for local SMEs, underlines the importance of innovation for the area's productivity and economic growth. VentureFest has been a great showcase of its success to date.
'Not only have we heard inspirational stories from companies who are already embracing new opportunities presented by Innovate Tees Valley, but we've also met many new businesses we can help to grow through innovation. It's been a really exciting day.'
The event's founding partners are Innovate Tees Valley, Tees Valley Combined Authority and the Knowledge Transfer Network. It receives funding from the £6.5m Innovate Tees Valley programme, led by Teesside University with partners NEPIC, the Materials Processing Institute and Digital City and is part-funded by the European Regional Development Fund.
---
In the News
First Tees VentureFest hailed a huge success
Tees Business (Web) 13/09/2017; BQ Magazine (Web) 14/09/2017; B Daily (Web) 14/09/2017; North East Times, 14/09/2017; North East Connected, 14/09/2017; Northern Echo, 15/09/2017; Hartlepool Mail 16/09/2017; Darlington & Stockton Times, 22/09/2017
Laura Woods,Director of The Forge, Teesside University's business hub, said"Innovate Tees Valley a major programme of expert support for local SMEs,underlines the importance of innovation for the area