How digital is transforming business
The positive impact digital technology is having on industries across the region has been showcased at an event at Teesside University.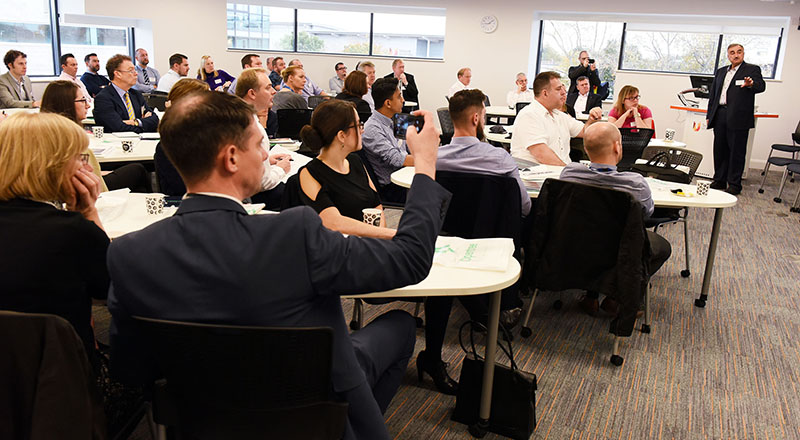 Dozens of industry leaders attended the Leading Digital Transformation event to hear from companies at the forefront of digital innovation about the knowledge, skills and technology in the region, as well as how to create new value and revenue from digital assets.
The event looked at how the traditional industries of the North East were being transformed by new technology and also how an emerging cluster of digital businesses was helping to support and grow those industries.
The event was organised by technology company Kraken IM with the assistance of DigitalCity, a partnership initiative led by Teesside University which helps digital businesses to innovate and grow.
Kraken IM is a start-up company based at Teesside University's Launchpad business incubator, which has developed software to help multi-million pound projects in the engineering sector work more efficiently, by capturing information throughout the project lifecycle to create a digital asset.
Also, speaking at the event was Professor Nashwan Dawood, the Associate Dean (Research and Innovation) in the School of Science, Engineering & Design, who is an international expert in project construction management and the application of IT in construction process.
He spoke about how Building Information Modelling (BIM) was transforming the construction industry allowing the whole life cycle of a construction project to be viewed as a digital asset.
He said: 'The digital agenda is underpinning the modern construction process.
'We are working closely with industry to use our research activity to tackle the problems they face.'
There was also a panel session led by John Adams of BIM Strategy with panellists from companies leading the way in information management for the industrial sector including Datum360, Kraken IM, Aveva, and Digatex.
Daniel Watson, Digital Cluster Innovation Manager at DigitalCity, said: 'Digital transformation is emerging as a driver of sweeping change in the world around us.
'This was a fantastic event for businesses to learn about the impact digital technology can have on their company, particularly those in more traditional industries.
'It also gave guests the opportunity to learn about the vast array of innovative and creative digital and technology companies in the Tees Valley.'
---