Student Megan ensuring she is ready for the future
Graphic Design student Megan Howard has been readying herself for the future through her creative work for Teesside University.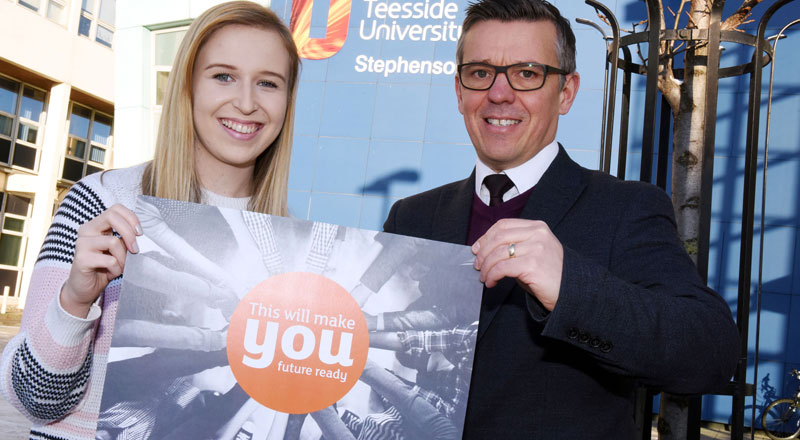 Megan, who is completing her final year of the BA (Hons) Graphic Design, won a design competition after students were asked to create a new logo for the University's Student Futures, which aims to build stronger links between students and employers across the business community.
Her win will also lead Megan to spend time with the University's in-house creative team based in Student Recruitment & Marketing to see how her designs are being taken forward.
Megan, 20, from Catterick, created a logo design which incorporates the theme of being 'future ready' to highlight how students are prepared for employment while they study and beyond graduation.
She is also working with the Students' Union as a student designer and brand development assistant, where she has been offering support to the SU design team.
Megan said: 'It has been brilliant to see my work recognised in this way by the University and to have an opportunity to see how professional designers carry out their work. It has been a great experience and is a boost for my CV.
'It felt really good when my design was chosen, as my theme aims to show students that they are the focus of the campaign.'
Before starting the degree Megan had initially planned to study at another university, but changed her mind after visiting Teesside.
She said: 'When I visited Teesside University and spoke to graphic design staff and students it completely changed my mind. It was great to be able to speak to so many staff and students about the course and studying at Teesside. It was really important that I had the opportunity to ask so many questions.
In helping the University to develop the new Student Futures brand, she is also making herself future ready
'It completely changed my mind about where I wanted to study and I am pleased to have chosen Teesside.'
Megan added: 'The degree has enabled me to build up my portfolio. It's also helped me to change the way I think creatively and from a problem-solving point of view. I really feel the course is helping me to pursue a career in graphic design.'
Chris Walker, Deputy Director, Student Recruitment & Marketing, said: 'Megan has been able to develop her employability skills and her professional portfolio by working on her logo alongside our in-house design team.
'In helping the University to develop the new Student Futures brand, she is also making herself future ready.'
Meryl Levington, Head of Student Futures at Teesside University, said: 'Our aim is to work with students to develop key employability skills so they are better equipped for work and to help raise aspirations for graduates.
'We are working alongside employers to understand the changing needs of their businesses, while responding to them by developing our programmes and modules accordingly. The University is not just about endowing academic qualifications on students, but also works to create valuable future employees.'
Megan was awarded £200 in Amazon vouchers for her winning design logo.
---
Courses
---
In the News
Student Megan ensuring she is ready for the future
North East Connected, 13/12/2017; North East Chamber of Commerce, 15/12/2017
Megan Howard , who is completing her final year of the BA (Hons) Graphic Design, won a design competition after students were asked to create a new logo for the University's Student Futures,