Billingham oral care company all smiles after Innovate Tees Valley assistance
A North East firm which provides and manufactures oral care products has seen its online sales rise by more than half after help from the Innovate Tees Valley project.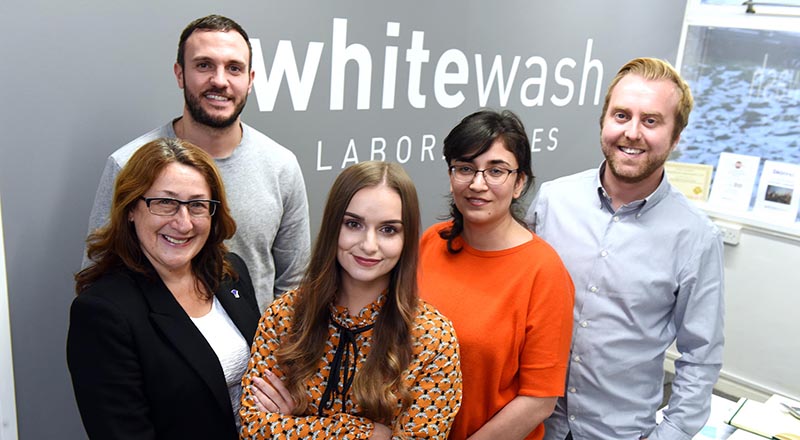 WhiteWash Laboratories, based in Billingham, was given assistance from the project to recruit and employ a marketing graduate to concentrate on the development of an online and digital marketing strategy aimed at a specific market sector for their NANO range of products.
In addition, Innovate Tees Valley is helping WhiteWash Laboratories to grow its business by providing technical mentoring support as it sets up a studio for research and development and small-scale manufacturing.
Innovate Tees Valley provides funded or part-funded services to businesses to help them meet new challenges and improve services, products and processes.
Since Teesside University graduate Megan Lillie started working on a Knowledge Exchange Internship at WhiteWash Laboratories, online sales have risen by 67% in a six month period.
Her work, which has been supervised by Dr Azar Shahgholian, a senior lecturer in Digital Marketing and Digital Business at Teesside University, has also helped increase the amount of website traffic by 177%, grow the company's social media following by 78% and increase sales from email marketing by 140%.
Another Innovate Tees Valley partner, the North East Process Innovation Cluster (NEPIC), is providing the technical mentoring in the development of the studio to help WhiteWash Laboratories understand operational, health and safety, quality and legislative requirements.
The whole project has brought so much more to the company than what we expected.
Suhail Aslam, the Innovate Tees Valley project manager, said: 'We are delighted that our work with Whitewash Laboratories has had such an immediate impact.
'By working with respected partners across the region, Innovate Tees Valley provides a range of simple to access services to make it easy for companies to grow and try new things in their business.'
Tom Riley, Managing Director at WhiteWash Laboratories, said: 'The Knowledge Exchange Internship has been great and our digital marketing campaigns have been extremely effective.
'Megan has fitted into the team really well, consistently producing work to a very high standard.
'She has a wealth of knowledge in digital marketing and the academic support has allowed the project to evaluate all elements of an effective marketing strategy from looking at the Search Engine Optimisation of the company to the use of Google Analytics.
'The whole project has brought so much more to the company than what we expected.'
---